Happy Halloween, gentle reader!
A couple of weeks ago, I decided that I should probably start thinking about a post to mark the sixth anniversary of this blog, only to realize that the anniversary had already passed two weeks before. That time is playing tricks on me should tell you the kind of year I'm having. Still, it's looking like the dark clouds are starting to lift. I have a lot of ground to make up, including an actual anniversary post which is a little different from what I usually do, and that should be out very soon!
An Ace That You Can Keep
In the meantime, I want to briefly touch on the most current topic in SWTOR: the recent start of the third Galactic Season! My first impression is that Bioware's approach this time around has been "If it ain't broke, don't fix it." If so, it was definitely the right call. I had lots of fun during the second season, but since it ended, Conquest has gotten stale, so it's nice to hop on and look at the week's objectives and see what I feel like doing for some neat rewards.
Indeed, I think the rewards this time around, are overall the best of the three seasons' worth we've had so far. I've got characters waiting for each of the weapons, and the outfits should fit nicely into the wardrobes of my smugglers and agents. As for this season's companion, PH4-LNX, she's quite distinct, with ties to our Fallen Empire adventures. It's cool to know there are still some GEMINI droids out there still making their way in the galaxy after being freed by SCORPIO.
The most noticeable change in the Season's rewards track is that this time Bioware has been less generous with Cartel Coin rewards which have been substituted out for Bind-on-Legacy Cartel Packs. I heard of many folks completing the previous season on all five servers and coming away with twenty thousand Cartel Coins. That is a good chunk of cash shop currency, so I can understand why Bioware dialed those rewards back. But I can also see that dedicated players who put in the effort to complete the season on multiple servers made a considerable investment in time and subscriptions themselves. Personally, the cartel coins aren't the main thing I want out of the season's rewards, so I'm fine with the change, but I will admit it was nice being flush with cc (by my wasteful standards anyway) after completing the season on two servers last time around.
Bioware also nudged up the cost of the account unlocks for this season rewards, which I am less happy about. I admit the costs are still cheap, but it's not great to feel like you're being nickel-and-dimed when unlocking player earned rewards, especially after seeing that the Cartel Coin rewards have be already been reduced.
Despite this, I do think the season is off to a good start. Completing objectives with guildmates is always fun, and running Fay's basic story quests and many of the odd-ball objectives remains a pleasure.
No Tricks, Only Treats: Opal Vulptilla Mount Raffle!
To somewhat belatedly celebrate this blog's sixth big, big anniversary, I am pleased to be able to share with members of my community an opportunity to win an Opal Vulptilla mount. To enter this raffle, all you need to do is leave a comment below this post. Do you dress your characters up for Halloween? Do your characters cosplay in SWTOR in general? How have you been enjoying the new Galactic Season? Do you do it multiple servers or is one enough for you? Let me know what SWTOR thoughts are on your mind!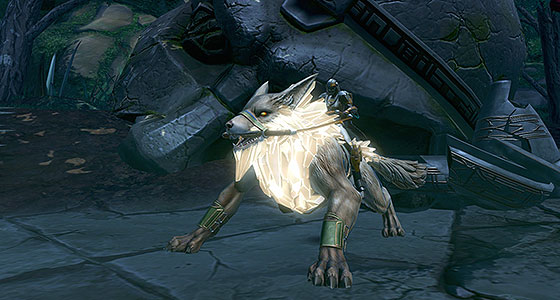 To enter, leave a comment below with the following information:
Your character name (be mindful of spaces and special symbols!)
Your faction
Your server
That's it! For every ten entries, I will draw one winner up to a maximum of 3 mount winners. Just between you and me, I've got some extra codes for cartel coins and subscription time, so there should be plenty of prizes for the runners up as well. No candy corn, apples or fun-size chocolate bars here, only full size treats if I can help it!
I will accept entries for two weeks from this posting and will randomly select winners on November 15, 2022 at 12 PM ET.
If you prefer not to comment publicly, I also accept entries via email at twia@generic-hero.com or through twitter.
There are no country or server restrictions on any of the prizes that will be awarded.
This giveaway is not sponsored, endorsed or administered by, or associated with LucasFilm Ltd, BioWare or Electronic Arts Inc.
We're on the honor system here, so one entry per person, please.
Please only enter for yourself!
Good luck, and may the Force be with you!
If you're new here, I hope you'll take a look around. I've been translating SWTOR's alien languages for six years now and sharing commentary about the state of the game as I see it.