This week, let's take another look at the two Mandalorian posters that were introduced in the Spirits of Vengeance flashpoint and can also be found by players as stronghold decorations. In the most recent Game Update, the posters were revised and now no longer translate into English but into Mando'a, Star Wars' Mandalorian spoken language.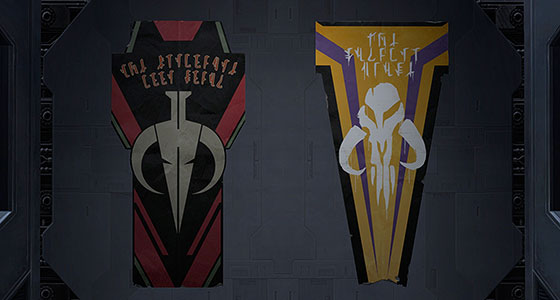 It seems that I may be inadvertently to blame for this change because of the translations of the posters I made earlier this year, something I learned to my surprise when I tweeted about the update a month ago.
It was actually a bug that I caught thanks to you! It was always meant to be in Mando'a ?

— Charles Boyd (@Charles_Boyd) June 30, 2021
I confess I had some complex reactions to this discovery. First, it's honestly a very cool feeling to know that I got to have even a small effect on the game, but I was also somewhat abashed when I realized that my little blog led to extra work for someone on the art team at Bioware. For what it's worth, that also meant that I also had to revise my recreations as well, so what goes around comes around. It's like poetry, I guess; it rhymes.
If you compare the updated posters to their original versions, you can see that there were some additional changes made, especially to the banner from the Ash'ad ship, the Seeker's Vigil. The revised graphic now features deeper and richer hues of the traditional Mandalorian red and green colors. While I can't say if it's intentional or not, this particular color palette specifically recalls to me the fresh coat of paint Boba Fett applied to his armor late in season two of The Mandalorian.
Despite a large number of weird alien texts seen in SWTOR and across Star Wars lore, Star Wars does not have a full Constructed Language or "conlang" like J. R. R. Tolkien's Elvish, Star Trek's Klingon or Game of Thrones' Dothraki to call its own. The origins of the Mando'a language stretch back to The Knights of the Old Republic, but it's been used frequently in both SWTOR. as any Torian stan can attest, and in many recent animated and live action Star Wars adventures.
For now, Mando'a vocabulary is mostly limited to the kind of things we can imagine Mandos most care about: honor, glory, battle, that sort of thing. It's not yet at the point where you can have a conversation about the weather, your favorite Grav-Ball team, or how much better Hamlet is in the original Mando'a. It's not unreasonable to think the language might be further fleshed out in future seasons of The Mandalorian and The Bad Batch.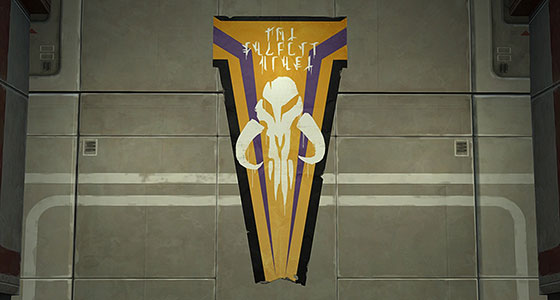 The use of Mando'a, however, does present something of a dilemma for this humble translator. My recreations thus far have all been direct, letter for letter copies of the originals, even when they are not meant to have any actual meaning in English. However, in the future I may be tasked with not only transliterating Mandalorian letters in to English letters, but also translating Manda'o into English.
I'm wondering how far I should go. My goal for this project has always been to present SWTOR's alien writing in a way that makes it feel as familiar to players as to their characters, but Mando'a is likely as unfamiliar to most folks as Aurebesh, and since Mando'a grammar is different from English, any full translations I make may lean towards my interpretation of the text rather than direct translation. This is a dilemma faced by any translator, of course, but I must admit learning to speak Mandalorian is not a skill I thought I would need when I started this blog!
For now, however, in regards to these two posters, we know exactly how they are meant to be translated thanks to their original iterations, but in the weeks to come, we might just get to find out how clever an alien linguist I am! Wish me jate'kara!