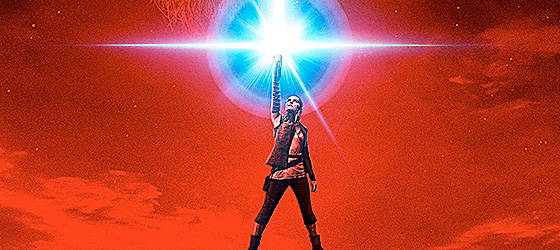 I'll come right to the point. I loved The Last Jedi. Maybe it's not a great movie, but it's a great Star Wars movie. I think it's the best looking one of the whole lot. Obviously, the Ramming Speed! collision is a show stopper, but the white and red salt flats, Snoke's throne room and Luke's island are all beautifully realized set pieces. All the performances are good, and Daisy Ridley and Adam Driver do a terrific job holding the center of the story together.
Beyond that, the movie really pushes the characters to grow. One of the things I like about The Force Awakens is that it took the character types from Star Wars, but mixed them up. Poe thinks he's the Han Solo, but he's really Princess Leia, and in The Last Jedi Leia herself is kicking his ass to make him accept that truth. Our heroes eventually figure things out, but not by succeeding. Pretty much every plan made in this movie falls apart, but Rey, Finn, Poe and even Ben take their lumps and get back up again. I don't know if Rose has a story arc, but I don't care, she's adorable.
As for Luke, the embittered old hermit, I buy it completely. I've always seen Luke as a loner; this is something I don't think the Expanded Universe ever really got right, so I don't think it's out of character for him to retreat to the kind of life he saw Obi-Wan and Yoda living when things went bad. In Return of the Jedi, Luke's heroic act is rejecting both Yoda and Obi-Wan's urging to kill Vader and the temptation to the Dark Side. That he struggles to keep his own standards as a teacher is Old Luke's tragic flaw, and it seems to me that Rian Johnson wants to call out Luke in a way that Obi-Wan and Yoda never were, and to force Luke to take responsibility for failing Ben instead of letting Rey do his dirty work.
I think that Leia was handled much better here than in The Force Awakens (or Return of the Jedi for that matter). I really believed she was leading this rebellion and not just a figurehead in the room. And her big moment seems to me to be the most impressive thing we've ever seen done with the Force in any of the movies. If we have to say good-bye to Carrie Fisher, I'm glad it was this way.
It's not without flaws to be sure. By breaking up the band, the easy rapport between Poe and Finn and Rey, which was such a big part of what made The Force Awakens so enjoyable, feels like a missing piece. There are lots of characters, ideas and stories flying around here, and maybe some of it could've been trimmed. This density causes The Last Jedi to not have the same momentum as other Star Wars films, but, it does allow room to explore the Force more than any other movie in the series. And if the Canto Bight section drags, I'm willing to forgive it because it sets up the film's coda. I think the scene with the kids is not only one of my favorite parts of the movie, but one of the best Star Wars moments ever.
Ultimately, The Last Jedi just works for me. It leaves me wanting more, but also feels complete in its own right. I like and care about Rey, Finn, Poe and Rose. I understand and pity Ben, I mourn the loss of Luke and Holdo. And Carrie. We should remember the truth of them as people, but we should also print the legend.
With that, I'll bid adieu to 2017. I want to thank everyone for visiting and every bit of feedback from a like on Twitter to an award on reddit. I appreciate it all. Have a happy, healthy and prosperous 2018!