This week let's take a quick look at the holographic display that appears behind players who possess the Party Instigator, a device that can be purchased on Balmorra by players who have achieved Social Rank 5. In addition to causing players around you to dance, this item also deploys a colorful and flashing neon sign at the center of the festivities.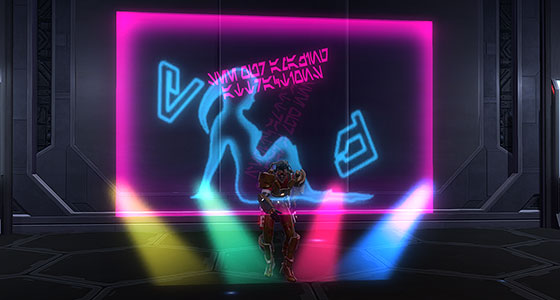 There isn't much to the translation, but like my previous recreation, this image also evokes a slice of Americana, one likely familiar to anyone who has driven the interstate highways of the United States.
The text and figure depicted indicates that this display was probably intended for one of the seedier cantinas or dive bars that can be found in any of the galaxy's countless wretched hives of scum and villainy. The two large letters flanking the figure don't strike me as having any obvious meaning. It's fun to wonder if there is any inside joke at play here, but if there is I cannot say. But in the spirit of baseless speculation, I might venture a guess that since the shape formed by the legs of the figure resembles the Aurebesh letter "Xesh", it could simply be X Y and Z, the final three letters of the alphabet. Beyond that, who knows?
There is, however, no doubt in my mind about the source of inspiration for the figure seen in neon. She is clearly based on the "Mudflap Girl" whose chrome silhouette has become an iconic presence on many, many of the trucks, big rigs and 16 wheelers that range across America's highways and byways. In the five decades since its creation, the image of the Mudflap Girl has certainly achieved iconic status far beyond its initial use behind the wheels of trucks, and has been reinterpreted in countless ways and styles. SWTOR's version replaces the figure's flowing 1970's hair with a Twi'lek's lekku head-tail, an amusing substitution to be sure. What remains from the original design, is of course the figure's voluptuous physique.
Special thanks to the good folks in the Ootini guilds with whom I've been able to raid on the Satele Shan server. During a break in the action last week, someone asked about this graphic, and it was fun to have an excuse to buy my first Party Instigator and check it out over the weekend. Never let it be said that I don't take requests!