In honor of the bug that has, for the time being at least, turned daily questing zones into CXP bonanzas, I thought I'd a pay a visit to the Black Hole section of the planet Corellia.
The Black Hole is home to the HyperMatter Corporation, which refined and sold hypermatter, the extremely volatile fuel used by the fastest hyperdrives in the galaxy. The notoriously corrupt Corellian councilor Torvix attempted to seize control of this hypermatter manufacturing center, but instead only attracted the ire of both the Republic and the Sith Empire. The conflict between the three factions turned the Black Hole into a warzone overrun with toxic sludge and rampaging gang members.
This daily hub features several logos, signs and posters related to the HyperMatter Corporation that appear no where else in the game. The sign above boasts of HyperMatter's commitment to safety, but the fact that radioactive waste literally runs through the streets and basements of the neighborhood suggest that these claims might be slightly exaggerated.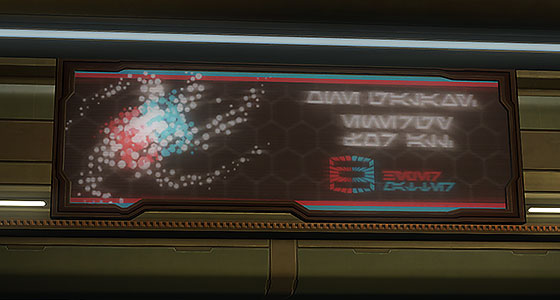 This sign seems to feature one of the taglines featured in their advertising. I don't doubt HyperMatter's desire to see their fuel sold across the galaxy, but it's also worth noting that the poster makes no mention of whether their product would be fairly or affordably priced.
Finally, here is an advertisement clearly aimed at Corellia's large and infamous population of smugglers and hotshot pilots. I'm certain a crate or two of hypermatter could shave a parsec or two off many a freighter's run, but hopefully it won't also cause that ship to be consumed by an explosion of tachyonic plasma should the gas cap not be screwed on tight enough!
These signs are pretty cool, and I'd like to see all of them (as well as a Hypermatter crate) added to the roster of stronghold decorations. I should point out, however, that they do include some "incorrect" Aurebesh punctuation and use the comma glyphs when periods were probably intended. In the interest of clarity, I corrected the punctuation in my recreations.
I think SWTOR has a pretty good track record when it comes to its daily quest zones, and I've always found them an enjoyable way to kill time in the game, especially compared to the far less interesting heroics. That the ridiculously excessive CXP rewards have breathed some life back into these areas has been pretty neat and it's nice to see people running around them again.