Last month saw the debut of a new event in SWTOR, the All Worlds Ultimate Swoop Rally. I'd intended this post to be my overview of the Rally, but the news from this week's livestream is worth discussing instead. With the Swoop Event's return next week I hope to revisit the topic and look at another Aurebesh sign prominently seen around the race tracks.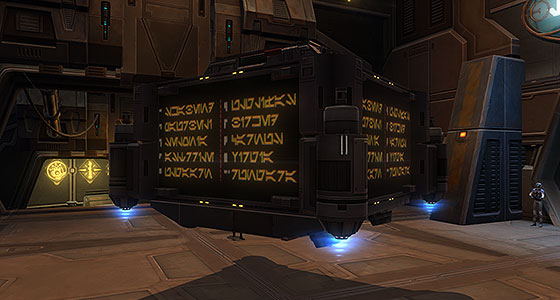 For now, however, let's quickly check out this display from the news terminal on fleet which hypes the rally and serves the breadcrumb quest that introduces players to the event. This static screenshot fails to capture the charm of the Sportscenter-style animation that plays on this screen. Here the Aurebesh text seems to be a leaderboard of rally champions with some amusing and very Star Warsy names. This display reminds me of the Bounty Hunter Guild's posted sign of most wanted targets that can be seen around the galaxy.
As I translated each name I made a guess as to which swoop team they race for. I'm quite confident that Paurbeli must be on the Horizon Racers.
UPDATE! More than a year after the fact, I discovered to my embarrassment that I had translated one of the names incorrectly. While my translation was phonetically correct, I can imagine that if you are number one ranked Swooper and your name is "Skabend" you probably want folks to get it right, so it has been properly revised. My sincere apologies, and if the other Blatant Beks could stop making donuts in my front yard, I would appreciate it.
Steampowered
This week SWTOR had their first livestream since the lockdown, and how you judge the stream's big announcement depends on your point of view. If you are already playing the game, SWTOR's arrival on steam probably won't affect you. However, SWTOR's prominent placement on gaming's biggest platform is a very nice signal boost for the game.
I'm sure many fans of the game have encountered people who are surprised to learn that SWTOR is still around. Even with little promotion, SWTOR has outlasted most other MMOs and certainly earned a good profit while doing so. As a fan, I'm glad to see SWTOR get some attention again, and an influx of new players is always welcome. I don't doubt that this wave will subside, but it can only be a good thing going forward that Star Wars fans might have an easier time finding the game. For old and new players alike, one of the immediate benefits of Steam is the ability to easily give gift subscription time and cartel coins to your friends, something that has become more difficult to do through other online retailers lately.
The other news from the livestream included the "Feast of Prosperity" a new seasonal event coming in the fall. The addition of two new events in a single year must be unprecedented in the game's history. Like the Swoop Rally event, this one will be mostly free of combat and something that all players regardless of gear or level can participate in.
We also got some teases of the next story update and a Mandalorian themed flashpoint as well. Sadly, this story content is not likely to arrive until later this year. This is one delay that I won't pin on Bioware. The logistics that go into creating SWTOR's story content, even just the recording of the sixteen members of the main cast, scattered around the world, must be considerable, and the current situation in this country can only amplify those challenges.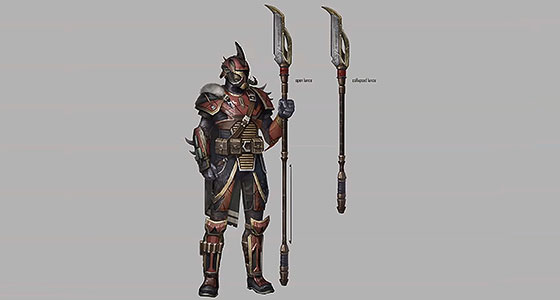 I suppose they could deliver content faster using the silent "KOTOR-style" dialogue interactions we get with the Fallen Empire recruitment missions. SWTOR has employed this for the Swoop Rally and revised Nightlife events, and I imagine they will with the Festival of Prosperity as well. I'm no fan of the format, but I don't mind it as much for content that is meant to be repeated. I cannot imagine it working or being received well for a major story update. The fully voiced and animated interactions are the defining hallmark of this game, and I'm fine waiting a little longer to get it.
It sucks that we're not going  to experience as much story as I am certain Bioware hoped to deliver this year, but I don't believe it can be helped. In the meantime, I have enjoyed the content they have produced under conditions that are not ideal for anyone. While I am unlikely to ever visit nightmare Dxun, I'm no where near finished decorating my Alderaan stronghold and I've found the Swoop Rally to be a lot of fun, and I'm glad to continue it next week.