With so much going on in the real world right now, perhaps it's only natural that I find myself looking back a bit. Since the earliest days of this blog I've been compiling "Dumb Top Five Lists" meant to highlight some of my favorite hidden corners and overlooked collectibles that can be found in Star Wars: The Old Republic. I thought it might be neat to see if some recent additions to the game could manage to secure spots on some of those old lists.
Top Non-Cartel Market Mounts: Feirocian Cruiser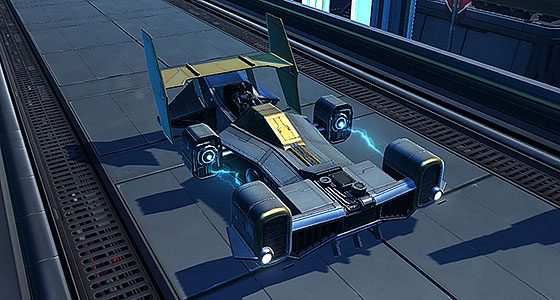 The first list of my favorite non-Cartel Market stuff covered mounts, but there have been many new mounts added to the game since that post. Many of those could be found in Galactic Command Crates during Knight of the Eternal Throne. The best, by far, of these is the Feirocian Cruiser which was a very rare prize found in Tier 4 Command Crates. This large, unique speeder is the closest we're ever going to get to driving the Batmobile in SWTOR. The massive fins, crackling plasma binders and gold trim all combine to make this one of the sweetest whips in the game.
Does it make the top five? During KotET this would've been a tough call since the only source of this mount was the highest level Galactic Command Crates. I won't lie; I ground a lot of CXP hoping to find this ride. Because of that difficulty, I would have put this in the "For the Truly Dedicated" category, but I'm not sure it could replace the beloved Pleasure Speeder in my heart. However, with Onslaught, the Cruiser can now be purchased from the Spoils of War Vehicle Vendor in the Supplies section of both Fleets for the relatively low cost of 500 Tech Fragments and 300,000 credits. This change parks the Feirocian Cruiser in the Vendor category where it easily earns the top spot. I don't tend to like big mounts, but this one is worth picking up.
Top Non-Cartel Market Dyes: Dark Blue and Gray
Only two non-CM dye modules have been added to the game since my second list was posted, but they're both nice combinations of Dark Blue and Gray. Their recipes can be learned from the Artifice trainer at skill level 620.  Despite sharing the same base colors, the two dyes seem to apply different shades. The Dark Blue and Gray dye, in particular, is very nice for a wide variety of outfits. The blue is very dark, nearly black, and the gray has a subtle metallic blue tint to it. I've applied this dye to Trooper armor, Agent gear and Sith robes, and it works well on all of them.
Does it make the top five? Absolutely. Despite the dearth of player crafted customization options, the Dark Blue and Gray dye module is a standout. It handily bumps Deep Brown and Red from my original list and doesn't feel the slightest bit bad about it.
Top Non-Cartel Market Decorations: Bioluminescent Mushrooms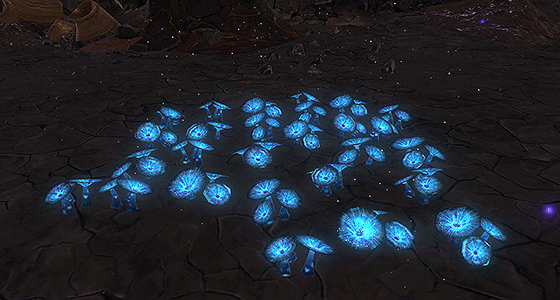 Where SWTOR has not been stingy lately is in providing numerous of decorations for players to earn in game on Ossus, Dantooine, Onderon and Mek Sha. Despite the wide variety of civic, furniture, environmental and technological decorations from these sources, my favorite is easily the Bioluminescent Mushrooms sold by astromech D3-C0 on Ossus. Prior to Onslaught, these decorations cost precious Masterwork Crystals, but they can now be purchased for a mere 50 Tech Fragments each.
Does it make the top five? Given that I have spent thousands of Tech Fragments to carpet the Killik Cave of my Alderaan stronghold with these happy little mushrooms, I think it's fair to give them top marks in the Reputation category. They are small decorations, but they pulse with a pleasant blue glow and throw off particles for a pleasantly soothing effect.
Top Non-Cartel Market Pets: Flirron
The jungles of Onderon are filled with countless creepy crawlies, prehistoric beasties, and flying fish, and resourceful players can take home a friendly Flirron as a companion pet after completing a short achievement. This four-winged fellow is part fish, part bird and pretty darn slick with its shiny blue scales and red stripes. Onderon is stuffed to the brim with secrets and achievements, and I definitely recommend making friends with the local wildlife while exploring this world!
Does it make the top five? I'm not sure, since it would replace the Nerf Herding achievement which is more involved and, to me, more engaging than the fairly simple Flirron-Friend achievement. On the basis of looks alone, however, the Flirron at the very least merits an Honorable Mention.
Best Worst Ways to Die in SWTOR: The Dxun Train
I've been having fun in SWTOR's newest operation, The Nature of Progress, which keeps up SWTOR's proud tradition of insuring that not all threats come from bosses. To raid an operation with a real sense of humor and literal running jokes has been a nice change of pace, and it helps that it does not lack for good encounters. The showpiece of the operation is certainly the Mutant Trandoshan Squad in which a brave team of heroes face off against four mighty, metamorphosed Trandoshan hunters. Despite being nigh invulnerable, they are ultimately no match for several tons of high-speed rocket trains crashing into their face. I've been running this operation for several months, and it still makes me laugh every single time one of those poor fellows goes splat. The Czerka Express, of course, is also fatal to players who should make sure to get clear when the hear that train a comin'. Under no circumstances should you use abilities like Rescue and Transpose to endanger the lives of your fellow party members. That would be wrong. I would never do that.
Does it make the top five? Without question. That instant comedy deaths can be inflicted on players and bosses alike makes this one of the all time greats.
Thanks for this trip down memory lane. If I missed your favorite decoration or mount, please let me know! I have more Aurebesh in the pipeline, but in the meantime, I hope everyone out there takes care of themselves, their families and their community.