The recent addition of weapons to the Outfit Designer has been a bigger deal for me than I ever expected. Up until now, I really only actively used one or two weapons at a time per character. But in the last weeks, I've been pairing up countless lightsabers, blasters and rifles with dozens of outfits across my legacy. A big part of accessorizing a weapon with an armor set is the choice of color crystal in that weapon, so I thought now would be a great time for another Dumb Top Five list spotlighting the best color crystals that can be found in Star Wars: The Old Republic without spending a single Cartel Coin.
A quick glance at this post will immediately reveal that there are fifteen crystals on this top "five" list. Leaving aside that math has never been my strong suit, it's simply down to the fact there are so many neat color crystals available to players through crafting and gameplay that I wanted to highlight as many as possible. Besides, my list, my rules.
The Classics: Red, Blue and Green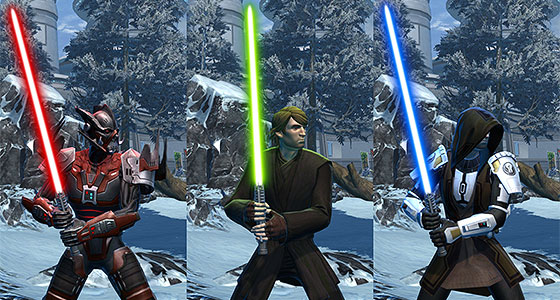 A red lightsaber looks good on any Sith, and blue and green are so iconic for the Jedi that any list of the best color crystals should absolutely begin (and could arguably end) with the three classic colors of the lightsabers in Star Wars' original trilogy. Artificers can craft a dozen different color crystals, including these, but I find I return to the primary colored stalwarts again and again. I've seen some strong opinions about these crystals having the wrong shade of green or tint of blue, but the movies are hardly consistent when it comes to coloring, so I'd say that you cannot go wrong with these colors, especially given how quick and easy they are to craft.
Eternal Championship: Cyan, Magenta and Purple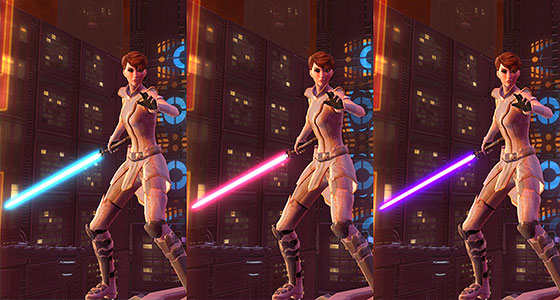 Knights of the Fallen Empire's Eternal Champion boss rush/fight club encounter reintroduced the neon glowing Cyan, Magenta and Purple color crystals that had previously been included in weapons found in the level 50 Operations. Each crystal costs only two tokens awarded from completing the Eternal Championship, but Artificers who had been around prior to KotFE were able to reverse engineer the Cyan and Purple crystals and to craft themselves. In addition, the recipe for the Magenta crystals still drops from level 50 areas and world bosses. If you don't feel up for a run at the Eternal Championship, you can still find these crystals on the Galactic Trade Network auction house, often affordably priced, but sadly they can no longer be reverse engineered.
Black Core Crystals: Red, Green, Blue and Purple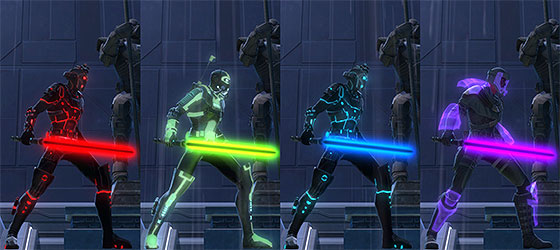 There are several brands of distinctive "black core" color crystals available in the game. The Red, Blue, Purple and Orange (not pictured) drop in Operations and the Green-Black crystal can be purchased from Jeelvic the Jawa for four Rakghoul DNA Canisters, event currency that can be earned during the recurring Rakghoul Resurgence. Of the four pictured here, I think Black-Blue is my favorite, but all of these crystals stand out in a crowd and look especially dramatic when paired with the right weapon tunings.
Just like the original purple and cyan crystals, these black core blue, orange, purple and red crystals also could be reverse engineered by Artificers prior to Fallen Empire. Therefore they are likely to be found on the GTN as player made items or simply the BOE versions that still drop in Operations to this day.
Tricolor Crystals: White-Purple-Blue, White-Orange-Yellow, and Red-Blue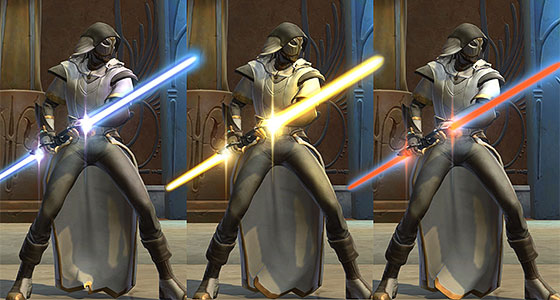 Of the many different variants of crystals in the game, the triple color crystals are among the most unusual, and Artificers can craft two of them: White-Orange-Yellow and White-Purple-Blue. I also included the Red-Blue crystal here since its color interactions suggest a white inner glow. Attacks that involve throwing a lightsaber or attacks with wide, spinning strokes really show off all the different hues these crystals apply to lightsaber blades, and I find them fun to see in action. Of these three, I consider White-Orange-Yellow to be the stand out. There are other orange and yellow color combinations out there, but this particular crystal looks and feels the most like gold. If you're playing a High Republic inspired Jedi, I definitely recommend checking it out.
Best Crystal for a Blaster: Fire Red
Color crystals, of course, most dramatically affect the appearance of lightsabers, but I would be remiss if I did not also include my favorite color crystal for all those pistol packing, rifle slinging and bazooka blasting troublemakers out there. Blue, green and red blaster bolts are the standard from the movies, but the Artifice crafted Fire Red will spice up your blaster bolts with an extra dash of heat. This is my go-to for most of my ranged tech classes, and it looks especially awesome spraying from a Commando's auto-cannon.
Honorable Mention for the Truly Dedicated: Silver-Black
I like to include a "For the Truly Dedicated" entry on these lists, but I've decided to give the Black-Silver crystal mere Honorable Mention status on account of the fact that it can only be acquired through playing Ranked PVP. While it does cost a modest amount of Ranked tokens, I know that for many players, there is no amount of Ranked PVP that they would consider even "modest." However, if you want to come as close as you currently can in SWTOR to wielding the Darksaber, then the Black-Silver color crystal is for you.
At the time of writing, SWTOR is currently in a ranked "pre-season" so wins and losses do not count towards overall ranking, so now is the best time to dip your toes in the game's most competitive PVP mode. If you are curious if it is something you'd like to attempt, I suggest checking out this video from the great and powerful Kogass_ who has some advice for those thinking about ranked. Kogass recorded the video during Onslaught, but his advice equally applies to Legacy of the Sith. And if you want to check out some exciting level 80 Ranked PVP action, tune into Kogass' Twitch channel!
All of the color crystals on this list are Bind on Equip or Bind to Legacy which means that you will not be able to unlock additional versions of the crystals like you can using Account Unlocked Cartel Market color crystals. So be careful when swapping in new crystals over ones that you might want to save. Artifice crafted crystals can be replaced with relative ease, but some of the rarer ones might be tougher or expensive to reacquire.
Keep in mind that stats on the weapons and armor you stamp into the Outfit Designer do not matter at all, just their appearance! Go ahead and put a Power Crystal in a weapon you stamp on an outfit you intend to tank in. This goes for low level crystals too. If you've been getting a pre-order bonus +4 Endurance Black-Yellow crystal in the mail of every character you've made in the last ten years, you at last have a reason to slap that yellowjacket in a saber and let it sting!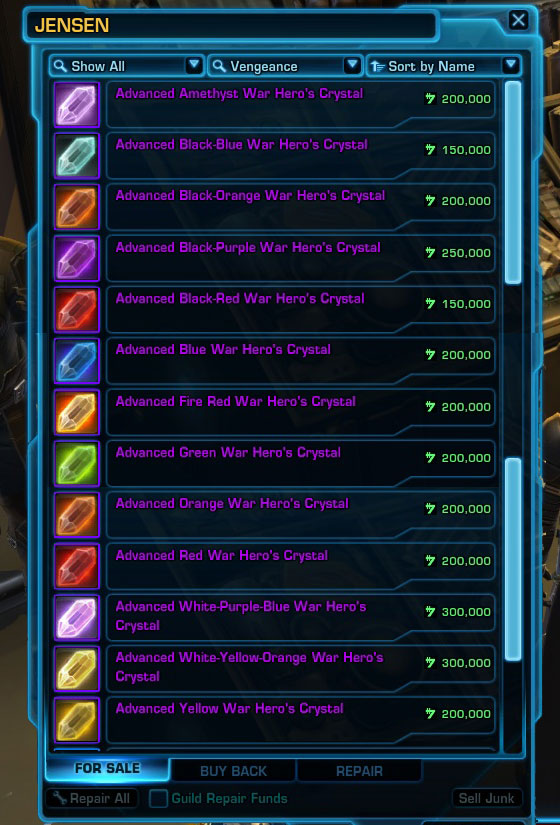 Finally, if you have a few hundred thousand credits to spare and are at least Valor Rank 10, you can skip the middlemen of crafting and the GTN for most of the crystals on this list and simply purchase Mastery versions of them from the PVP Items vendor in the Combat Training section of both Fleets.
The updated Outfit Designer has made it easier than ever to embrace every color on the rainbow of color crystals and I encourage everyone to check them out. If you've got a favorite color crystal, let me know in the comments what weapon and tuning it goes with best. I'm always keen to discover new combinations!