I've been wanting to recreate this sign since I started this blog. For all its interesting elements, however, there are also parts of it that frustrated me, and I'm not sure I completely cracked this nut.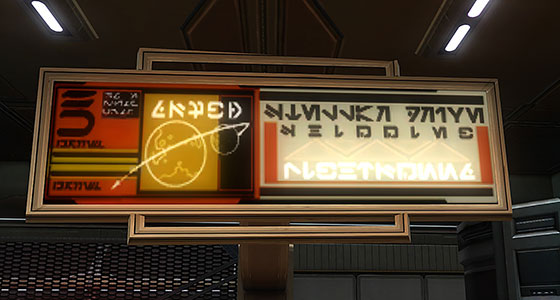 The sign itself can be seen all over Corellia, but many players' first encounter with it may be at the start of the Cademimu flashpoint. The sign includes at least two different languages, the non-standard Aurebesh font Galactic Standard and a touch of Futhork.
The resolution of this sign is low, and the writing is blurry and indistinct no matter how close you get to it. On the left, the white text on the black background is so distorted that I can make neither head nor tails out of it. The word that appears twice beneath the Futhork 'E' is also difficult to decipher. I think it might be written using the Sith Prophesy font, and have done my best to translate it that way, but I would not be surprised in the least if I got that wrong.
If any sharp-eyed reader has better suggestions, I hope you'll share your insight with me!
One interesting element of this sign is the array of five letters over the graphic of the planet and moon. This exact arrangement appears in very many other signs throughout the game, even ones that otherwise use proper Aurebesh. Whether it is simply a piece of commonly used clip art or an inside joke of some kind, I cannot say.
Even though aspects of this graphic remain obscure to me, it is still one of my favorite signs in the game. The use of space letters give it an alien touch, but the design keeps it grounded and recognizable as something that fits naturally in the Star Wars setting.