Before June closes out, I thought I'd slip in under the wire and share some quick thoughts on this summer's two in-game events.

Dantooine's Pirate Incursion is the first new recurring event added to the game in many years, and I'd say it's a solid addition. Like the other events, it's light on story, but what it lacks in narrative, it makes up in setting. I write this every time we visit a new planet in SWTOR, but Dantooine is another distinct and beautiful world to explore. Don't ever take for granted the wonderful work the game's environmental artists and designers do.
The events quests can be neatly divided in two: regular dailies and heroics. The circuit for the dailies will smoothly lead you around the zone, and there is a decent variety of quests which mix combat with exploration. As someone who likes to stop and admire the view and venture off the path for crafting materials, I can still complete the daily patrol quest in under 30 minutes of casual play. I also really enjoy any quest that has me playing as a mouse droid. I can't explain it.
If you have some patience, skill and gear, the heroics can be soloed, but, really, why would you? Group up with one or more players and they become much quicker and more fun. They can be combat heavy, so be ready to fight.
The weekly meta quest on Dantooine asks players to complete more quests and heroics than are available in a single day, meaning that if you want to complete the weekly, you must visit Dantooine more than once in a week. This is something we've seen on Iokath and Ossus. While I cynically understand this is meant to push player engagement in the game, I don't mind it so much for regular dailies, but for an event I find it annoying. I often use events as an excuse to dust my alts and get them some action with a bite sized time commitment. Combined with the fact that the event currency, unlike all the other event currencies in the game, is character and not legacy based, I essentially feel compelled to run the event on my main characters.
If I have to run the same quests on the same characters every time the event comes around, I can see the Pirate Incursion growing stale, perhaps faster than other events.
Dantooine also has a variety of achievements, some of which can be more easily completed in peacetime than when the actual event is active. Dantooine's peacetime state is a neat addition to the game. Unlike the testing area on Ilum which is empty when the Gree event is not active or the tunnels which are not accessible at all outside of the Rakghoul Resurgance, players can visit Dantooine any time they want. There are a pair of simple quests to complete and a few scattered hostile mobs, but for the most part, you'll just encounter farmers going about their day.
Since the advent of level sync, it's become less possible to visit a planet in more or less complete safety. Sure, there's no real need to visit Dantooine outside the event, but if you have time to kill, it might be a pleasant alternative to running laps around fleet or jumping on the furniture in your stronghold. One of my fond memories of World of Warcraft's Burning Crusade expansion was when I would just chill out on one of Nagrand's floating islands and simply enjoy the view. If you're wondering where to find me while waiting for an operations team to form or a flashpoint queue to pop, look for me relaxing under a tree on Dantooine.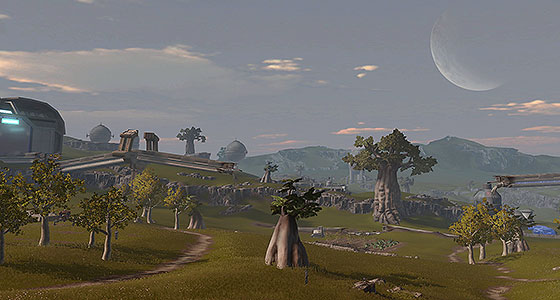 For many players, the meat of these events is the rewards. In that regards, I'd call the Pirate Incursion a mixed bag. The highlights include Quick Vrik, the Ugnaught companion, the Kath Hound mount and pet and an extensive selection of Dantooine themed decorations, but there is nothing I'd really consider a "must have". I would generously describe the reputation armor sets as "basic" and might be annoyed that they are Bind on Pickup instead of Bind to Legacy, but I can't see any reason why I'd ever want to buy them anyway. I'm honestly surprised they didn't dust off the pirate themed armor from Shadow of Revan's Rishi questline with some bold colors and fancy effects.
Outside of the Cartel Market, there hasn't been a new crafted or reputation based dye or color crystal added to the game since Knights of the Eternal Throne's launch, and I wish the Pirate Incursion had given crafters some new fun stuff to make while we wait for Onslaught.
Lady Luck, Please Let the Dice Stay Hot
The Nar Shaddaa Nightlife event has made its yearly return to the Smuggler's Moon. I don't really have anything new to add to my previous review of the event. I'm very happy with the new decorations that can be purchased with Golden Certificates, but I was able to buy all I needed with certificates won last year. I'm indifferent to the new companion and without adding a new armor set or mount to the vendor, there really isn't anything I feel a burning desire to to save up for, so I may not be spending much time clicking slot machines this year.
I don't doubt that the reason the Dantooine and Nightlife rewards seem sparse is that Bioware's focus is on Onslaught in the fall, but right now I wish there were more incentives for me to really care about these events.
I will be back later this week with some more Aurebesh. What can I say? It's summertime! I get distracted when the weather gets nice.