This week, Star Wars The Old Republic officially began moving forward with its plans to migrate its servers to Amazon Web Service's cloud based servers. As I write this, the French Leviathan server has already made the move, and so far things seem to be off to a good start.
As with many other of SWTOR's structural changes over the last couple of years, this might be something that many people may not even notice, but in the long run should result in more stable gameplay for players and less need for back-end support from the developers. Folks who've been playing on Star Forge this past year know very well that the server has been prone to outages, and I am looking forward to the day that the poor, tired Star Forge Hamster earns its wings up in the cloud after keeping the old server's wheel spinning for so long!
Cloud based servers open all sorts of possibilities for the game. For now Broadsword's plans are vague beyond migrating the current servers, but I do hope the Shae Vizla Asia-Pacific server that we tested last spring becomes a reality for everyone down under who currently has no good option for a responsive server to call home.
Beyond that, it's fun to speculate. Could we see event servers or seasonal servers or more localized North American or European servers? I wonder if cross-server grouping might even be possible one day. I don't know, but it's promising to think that maybe some of this could be in SWTOR's hopefully not too distant future.
SWTOR Hardcore Challenge?
As I said, I hope that the Shae Vizla server becomes a permanent fixture for my friends on the opposite side of the world. While the possibility of a completely fresh server with an untainted economy is intriguing, I also trust that free transfers to the new server should be open to all players who would want to make a new home there.
However, for folks like myself who would only be visiting, a fresh start offers an intriguing possibility, one in particular inspired by a popular community driven game mode in World of Warcraft Classic: the Hardcore Challenge.
There are two elements to the challenge, but the main one is simply to advance your character to maximum level without dying. If your character dies at any point on their journey, you are expected to delete that character and try again.
As a former long-time WOW player, I found the initial World of Warcraft Classic experience a curious one. Even though Blizzard did a very good job recreating the gameplay of the original game, it rather missed the mark when it came to recreating the feeling of playing WOW in its earliest days. The main issue is that there are no mysteries in World of Warcraft Classic. The question of which classes are best at which roles has long since been worked out. Players can easily target and acquire their best-in-slot gear. And the strategies for efficiently defeating each and every encounter in the game have been known for years if not decades.
I started playing WOW in its first year, and can assure you that none of those things were known to me. I learned my class by gut instinct and only had a vague notion of what the various stats on my gear did. As for dungeons and raids, I had no idea what to expect from my first visits to both the Deadmines as a pup and to Molten Core as a fresh level 60 Priest. This is something I suspect few if any players of today's iteration of WOW Classic experience.
Despite being a community-driven initiative, the Hardcore WOW Challenge has been a considerable success to the point that Blizzard will soon be rolling out official Hardcore servers. I think a big part of the appeal of the mode is that the challenge comes closer to replicating the feeling of leveling back in WOW's golden age. With the threat of death hanging over players' heads, they have to be more circumspect in how they play when a reckless encounter with Hogger or a South Shore Guard can send them back to the character creation screen.
The second element of the challenge is that players are expected to play using a set of restrictions called SSF: "Solo-Self-Found". That is to say that the only weapons and armor and accessories they can use are those they've looted, crafted or earned as quest rewards. Use of the auction house, the mailbox and trading with other players are forbidden. Without being able to feed a fresh character unlimited gold, bags and high quality equipment, Hardcore players need to be careful when forced to make do with the loot they find for themselves along the way, just like I did back in 2004.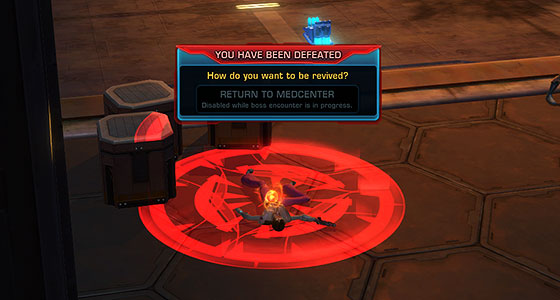 This spring I started wondering if a "SWTOR Hardcore Challenge" might be viable on a fresh server should one come along, and what sort of rules it should entail. First we must acknowledge that leveling in SWTOR is significantly easier than leveling in World of Warcraft Classic. The goal as I see it, however, is less about making leveling as difficult as possible than it is to try to approximate the pace and experience that SWTOR players had back in 2011.
When I mentioned this notion to Kal from Today in TOR, they suggested banning the use of Companions, but I feel like Companions are so integral to SWTOR's gameplay and story that denying them to players is too much to ask. Likewise, outlawing the use of Sprint until level 14 and Speeder Piloting until level 25 seems outright cruel. Those are two aspects of the vanilla SWTOR experience best left in the past.
That said, I think veteran players might find some unexpected satisfaction in leveling a character without endless credits and character, legacy and guild perks.
Here is the rule set I propose for a hypothetical "SWTOR Hardcore Challenge":
No grouping. I know this makes the challenge less social, but an extra player and their companion trivializes most if not all leveling content.
Players may not use the GTN. They may not trade with other players (or their own alts) in person or through the mail or Guild or Legacy storage. Use of Legacy gear is forbidden. Leave that Victorious Pioneer armor in your Legacy bank!
The gear vendors on Fleet and on the leveling planets are off-limits. Cheap and plentiful mods were simply not available back in 2011.
XP Boosts awarded from the story may be used, however boosts from daily log-in rewards are off-limits. My initial impulse was to ban all boosts, but it seems unfair to prevent players from using fairly earned quest rewards.
Conquest rewards may be used. Conquest is a later addition to SWTOR, but it feels too ingrained into today's gameplay to ban.
Each planetary Heroic and Story-based Flashpoint may only be completed ONCE and ONLY while your character is within the suggested level range for the planet or that part of the story. Once you out-level the planet, you CANNOT go back and do its Heroics.
Today the GSI Droid super-companion is an expected part of most Story Flashpoints, but I would award an extra gold star to players who decline to summon the "Jesus Droid" in Story Flashpoints.
Crafted gear is allowed. You may even drop and level new Crew Skills if you want to craft different types of gear. All crafting materials must be found by the character or generated from their own crew skill missions. The use of Jawa Junk is forbidden.
Claiming cosmetic gear, mounts and pets from Collections is allowed. I'm not a monster. Absolutely take advantage of the Outfit Designer and ride your favorite speeder. However, because they have stats, Color Crystals cannot be claimed.
This isn't really so much a code as a set of guidelines for a perhaps more old school style of leveling, and the degree to which anyone might want to engage with these rules is entirely voluntary. I'm also not suggesting that Broadsword make official Hardcore servers. I believe WOW's Hardcore challenge has worked best as a community event for players, and it doesn't require Developer intervention.
What do you think? If SWTOR gets a new server, would you transfer your legacy there or would you be interested in a fresh start? Are your lenses rose-tinted enough that you might want to try leveling in a manner closer to SWTOR's old days or do you just want to race to the level cap?