First off, let me apologize for the longer than usual gap between posts. I had spent a couple of weeks working on another, much more complicated translation, but that project ran headlong into a proverbial concrete wall, forcing me to abandon it completely. Instead I've moved on to something whose translation was no challenge at all.
If you've spent time on the hollow asteroid Mek Sha, you've seen this holographic sign and many others like it. To say that there are a lot of bars on Mek Sha is a massive understatement. There are bars everywhere on Mek Sha. I imagine these establishments are tiny affairs, much like the countless bars and sushi joints packed into the narrow alleys of Tokyo's Shinjuku district. Each of the miniature cantinas on Mek Sha likely has space for just a few seats, but serves unique and exotic specialties tailored to Mek Sha's diverse alien inhabitants.
The sign itself repeats the word "bar" three times and flashes on and off. It includes hex patterns that are common elements on other advertisements seen on Nar Shaddaa and the Republic Fleet. This is a nice aspect, which visually connects it to other holographic displays familiar to players already.
Alderaan Property Values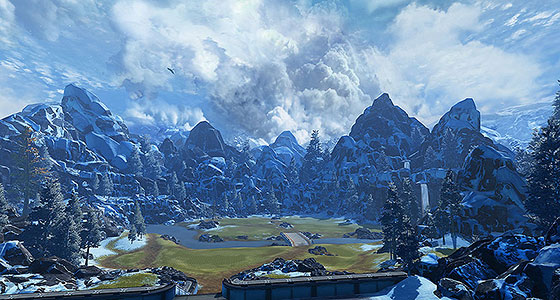 I should also touch on SWTOR's latest game update, Pinnacles of Power. The update's major feature is the Alderaan stronghold. Although I have purchased and fully unlocked it, I haven't yet done any decorating at all there, so I can only offer some brief first impressions.
Once again, Bioware has provided players with a beautiful and vast space to make their own. The stronghold is packed with secret areas, achievements and a wide variety of spaces to decorate from  the waterfall and stream in the open field out front and the impressively creepy Killik cave to the stained glass glow of the great hall and the snow capped calm of the mountain retreat, my favorite area of the stronghold.
I have the same complaints I have with all strongholds about wanting more hooks in one place, different kind of hooks in another and wishing for more interactive elements, but that doesn't diminish how cool Alderaan is. Like the Rishi and Yavin strongholds, I'm certain I will be decorating Alderaan for many, many months to come. Hopefully, I'll be finished before the Death Star comes to pay a visit.
The Task at Hand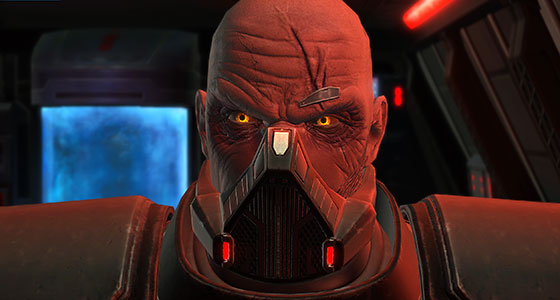 The game update also came with some story content. On the one hand, it is a brief interlude that doesn't really advance Onlsaught's larger narratives, but it is nice to touch base with characters old and new and see that things are happening even if they aren't galaxy-shattering events. And if you're a fan of Star Wars lore, there are some nice extra bits to sink your teeth into. For Republic players, characters from the Old Republic novel Deceived are introduced to SWTOR for the first time. In addition, Sith characters meet Darth Rivix, who is implied to be a Zeltron, an alien species first introduced way back in the Marvel Star Wars comics of the 1980's. Those comics are my jam, so I am completely on board for this magenta hued Dark Lord.
A bug introduced to the game during Knights of the Fallen Empire does add a sour note to the update. The bug has to do with companions wearing armor that has different appearances depending on what faction the character wearing it is a part of. For example, if Elara Dorne is wearing Trooper armor, it will appear as Bounty Hunter armor in cut scenes. This is something many players may not even notice if they've dressed their companions in gear from the Cartel Market or recent expansions. As someone who's been playing since launch, however, I have a collection of old school armors that are often good fits for my companion.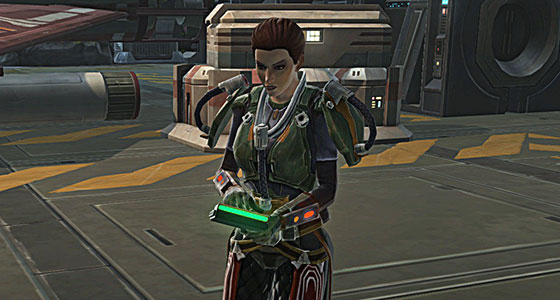 I understand that Space Barbie problems are far from game breaking, but it really does take me out of the moment when I walk into a cut scene and Kira is dressed like a Sith Inquisitor.
Aside from that, I think the story update does what it needs to do to keep the chains moving. Once again, things play out differently for Republic and Sith characters, and between some different dialogue options and companion interactions, playing through on alts has felt satisfying. I did not anticipate Malgus' next objective, but I imagine we'll be catching up with him in the ruins of Dantooine's Jedi Enclave in the not too distant future. That can only spell trouble.