In anticipation of SWTOR's new expansion Onslaught's launch next week, let's check out a little poster that is oddly relevant to the closing days of Knights of the Eternal Throne both in terms of what it says and where this particular example can be found.
The poster announces a sale, and even though the hype train for Onslaught has been surprisingly low key, SWTOR's Cartel Market has done its part by running a six week long series of sales. I don't deny that I've been hoarding my monthly grants to take advantage of the deals.
This sign pops up all over the galaxy, but the example I've chosen comes from the flashpoint Hammer Station, directly outside the room where heroes confront the final boss, Battlelord Kreshsan. While the Onslaught Test Server was active I made sure to spend time exploring, Onderon, Mek Sha and Dxun, but like many others, I also spent time racing through Hammer Station in order to complete the PTS achievements to unlock the Kai Zykken log mount.
I am proud that I got to help a whole bunch of friends complete the achievement, but if you come across me in the activity finder and Hammer Station pops, please don't take it personally when I drop from the group. I've had my fill of Hammer Station for a while.
As for the poster itself, I highlighted but did not recreate it in the very earliest days of this blog. It has a simple and charming design featuring a happy three-eyed alien who has no doubt gladly been parted from their hard earned credits, cartel coins, peggats, truguts or wupiupis. I've been there too, my tri-occular friend.
Despite a simple design, the poster has several layers of folds, faded colors, stains, rips, tears and general distress that suggest that the sale being advertised has long since ended. The Aurebesh at the top of the sign is written using a rarely seen freehand style rather than any of the standard versions. Aside from this poster, the only other place in the game you might see this type of Aurebesh is in some graffiti on Coruscant. Against my better judgment, I used Comic Sans in my English version, but the world's most hated font does indeed match the style of the original Aurebesh.
I hope that this poster will one day be available as a stronghold decoration.
New York, New York
I am fortunate that I was able to get away and participate in the New York Community Cantina a couple weekends ago. I'm a natural wallflower, but it was great fun to meet not just the people who make this game I love, but also so many of the good folks I've been lucky enough to play with online. Hearing familiar voices come from real people is a rare pleasure and I'm extremely glad I made the trek.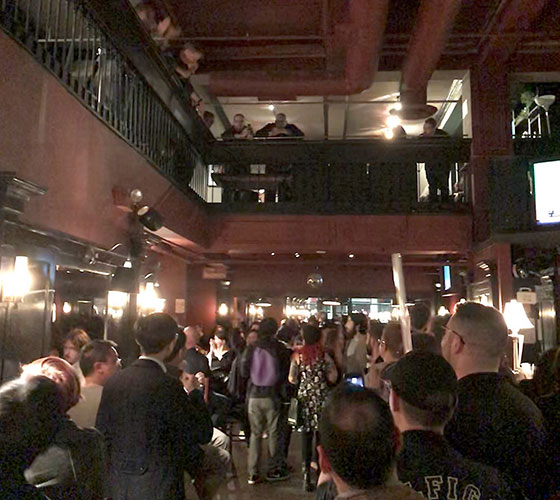 The Cantina event was light on official news; the venue did not really lend itself to elaborate presentations and we're close enough to Onslaught's launch that there isn't much left to announce. But in chatting with the devs from Bioware, there were additional tidbits to learn. The bosses in the Corellia flashpoint will be different depending on which faction you're playing. Everyone will get to interact with the much-missed characters Kira and Scourge as they make their through way the story, although they won't be joining everyone as companions afterwards. More generally, Bioware plans to keep things moving in the weeks and months ahead. They don't want Onslaught to drag out as long as Knights of the Eternal Throne and intend to make sure that every aspect of the game gets some love: from story and group content to PVP, strongholds and even Galactic Starfighter. It won't come all at once, but regardless of how you play, there should be something for you in Onslaught.
I can't wait, and I'll see you there!