During SWTOR's Rise of the Hutt Cartel expansion, patch 2.3 brought players to the secret moon base CZ-198, one of many clandestine research facilities owned by the Czerka Corporation. In addition to being home to a daily quest hub and two flashpoints, CZ-198 is adorned with numerous examples of Aurebesh signage and decorations.
Czerka has it's origins in the earliest days of the expanded universe, with the company and its logo created as a weapons manufacturer. Czerka played a significant role in both Knights of the Old Republic and in SWTOR where their operatives are the major antagonists of the Tatooine story-arc.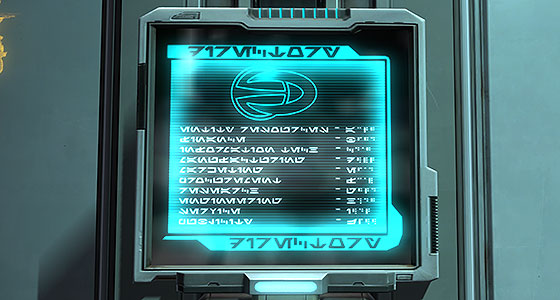 Many of the graphics, especially the ones with specific context, such as signs for the "Tram Station", "Freight Depot" and "Waste Disposal" are unique to the moon, although a few of the displays can be seen elsewhere in the galaxy, including on the bridge of the Gravestone. Several of the unique signs contain information about Czerka's research base. The display shown above directs visitors to the various offices found on CZ-198. One department has been appropriately renamed for the setting, and it's amusing to note that the publicity department seems to have been consigned to the basement beneath even the moon's facility operations.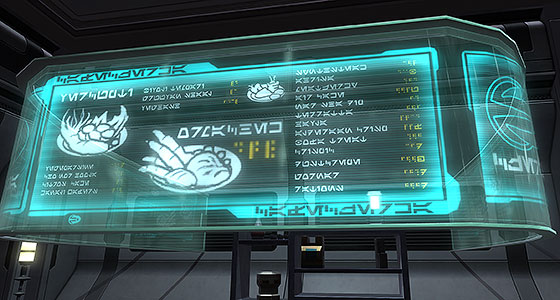 Czerka also made sure to provide its employees with the finest nutritional offerings at the Cafeczerka which has options for any tastes and any budget. I've got to tip my hat to the artists at Bioware for doing their research on this one. The dishes on the menu are derived from sources across the Star Wars canon. A few do seem to be unique creations of the Czerka Culinary Division, including the spicy Nar Sha Dip and the too often overcooked Alderaan Crisp. Evil geniuses never understand that char is not a flavor!
While this vendor stall can be visited in the Czerka flashpoints, it is also available as a stronghold decoration for folks who like to keep their characters well fed.
There is too much signage on display on CZ-198 for me to cover in a single post, so I will be returning to this moon in the near future.