Within Star Wars lore, SWTOR is something of an outlier. It seems to exist within a liminal space between Legends and Canon, based on the lore of the former but still influencing the latter. Mostly, however, SWTOR has been off in it's own corner of the Star Wars universe doing it's own thing, and speaking only for myself, I kind of like it that way. But that also means that SWTOR rarely if ever crosses over into other aspects of Star Wars fandom that I enjoy, but when it does, it's a special event. A few years ago I wrote about how I still enjoy collecting Star Wars action figures and that remains true. Star Wars figures can be found in many scales and styles, but my focus is mostly on Hasbro's "Black Series" line which features characters in the 1/12th scale, whose figures are roughly 6 inches tall. This week, the first character in the Black Series specifically inspired by SWTOR arrived on my doorstep: Darth Malgus.
And, boy howdy, is he terrific. Hasbro's Black Series line is nearly as old as SWTOR, and without going into nerdy detail, Hasbro has been refining and updating the design of their figures, and all of the best hallmarks of the modern Black Series are on display here. Malgus is an entirely new sculpt with a good range of articulation; his joins are pinless, minimal and mostly unobtrusive, which means  I am able to pose him dynamically enough that he looks cool standing on my desk, and I can almost believe he jumped right out of the game!
In addition, Hasbro is now able to digitally apply paint to their figures allowing for a remarkable level of detail on Malgus's scarred face. This extends under his breath mask which can be removed if you are willing to yank the head off its peg. Malgus is also one of the biggest, broadest Black Series figures, taller even than Darth Vader, and he towers over Revan, his fellow Darth from the Old Republic era.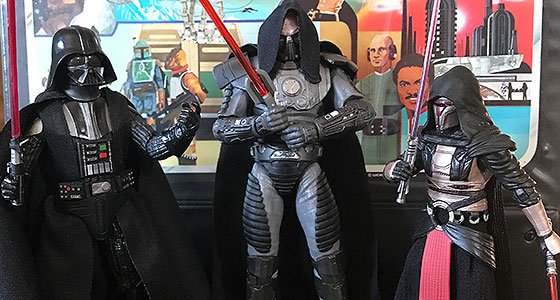 The question of whether this Darth Malgus action figure is a toy or an "adult collectible" is a fair one to ask. Hasbro, I'm certain, would like to have it both ways. While I wish these figures came with a few more accessories (every Jedi and Sith should include swappable Force wielding hands, for example) and a little extra punch of paint details in the costumes, I still feel like the Black Series figures I get are worth the price, even Malgus who is a few extra bucks more than a standard figure. When it comes right down to it, similar, actual "adult collectibles" cost anywhere between four and ten times as much as a standard Black Series release; so I can't blame Hasbro for cutting corners here and there.
I may be wrong, but I think this Black Series Darth Malgus might be the first all new bit of SWTOR merchandise we've seen in years. And while I know it's not up to Broadsword, I do hope this is only the beginning. At the very least, Hasbro can't just leave it here. If they're gonna do Malgus, they have to do Satele Shan so we can recreate their duel on Alderaan. Hasbro recently re-released the Republic Trooper and Shae Vizla figures from the "Vintage Collection" line of 3 ¾ inch figures, and you can't tell me that they wouldn't also look great in the 6 inch scale next to Malgus.
To do these characters justice in plastic form, all of the figures would require original sculpts from head to toe, so whether Hasbro is able to keep producing figures based on SWTOR may depend on how well Malgus sells. As I write this, Malgus is still available in the United States from Hasbro, Entertainment Earth and Big Bad Toy Store. It's not for me to tell you how to spend your money. As I said in my original post, these "toys" are not cheap and when deciding whether I want to get one, I have two criteria: I have to like the character, and I have to like the figure they made of it. Sometimes I'll fudge one of those, but Malgus easily checks off both boxes, and seeing him on my shelf makes me smile.