The topic of controversy swirling about SWTOR's raiding community concerns the removal of the Veteran's Edge buff from Master Mode/Nightmare difficulty operations. Veteran's Edge is a buff that increases a character's main stats based on the overall item rating of their gear in most group content. With the release of Onslaught all pre-existing operations and flashpoint content were "level locked," and characters running that content are scaled down to level 70. The buff is meant to take in account the gear characters are wearing and to complement Onslaught's emphasis on horizontal gearing. Assuming your character has equipped item rating 306 gear in every slot, you will get 30 stacks of Veteran's Edge in most Flashpoints and Storymode and Veteran Mode Operations, meaning once you complete the short vertical progression grind, you will out-gear nearly all of the group content in the game. With Game Update 6.1, this buff has been removed from all Master Mode Operations, dramatically increasing the difficulty of these operations across the board.
Before I continue, I should make absolutely clear that I am not a hard-core raider. During Rise of the Hutt Cartel and Shadow of Revan, I actively raided SWTOR's Hard Mode (now called Veteran Mode) operations and I've recently picked it up again. The only Nightmare boss I have ever killed without the benefit of an extra tier of gear or extra levels is Nefra. Farming the easiest Nightmare boss for implants does not at all qualify me to talk about the concerns of the Nightmare community.
But I have some thoughts about level locked content, and they intersect with what is going on in the Nightmare community.
The purpose of level locking content is to keep it "evergreen" so that it does not require additional tweaking as the level cap increases in future expansions so that players will always be able to experience it in a fashion more or less as originally intended.
Level sync was first introduced during Knight of the Fallen Empire as a way to keep questing on the game's many planets relevant for players even if they exceeded the intended level range of a planet. Flashpoints and Operations, however, were instead scaled up to the maximum level and again for Knights of the Eternal Throne. For the most part, level sync has been successful on the planetary scale, and it's fair that Bioware would want to apply the system to group activity, freeing them to focus on new flashpoints and operations going forward rather than spend time re-balancing old content every time a new expansion launches.
That said, level sync is not perfect. Important stats like Endurance, Mastery and Power are capped in level synced content. The Veteran's Edge buff is meant to account for our character's gear and increases those stats. Let's take two characters in full 306 kits, one has best in slot gear and augments in every slot; the other has a completely random assortment of unmodified equipment. When level locked, the two characters will have identical hit points and mastery. The character that is well itemized will have superior tertiary stats like Accuracy, Alacrity and Critical, but the difference will not be so great as when you run into both of them on Fleet or Dxun where stats are not scaled.
It gets even weirder when you realize that there are many, many set bonuses, stims, adrenals, class buffs, group buffs, relic procs and guild perks that boost Endurance, Mastery or Power and therefore have absolutely no effect in level locked content.
This is why you see people using relics that were previously scorned, why everyone including tanks and healers should use Accuracy stims and why some guides recommend dps and healers use Warding Mods; they are, after all, literally the only mods that have any effect on our stats in level locked content.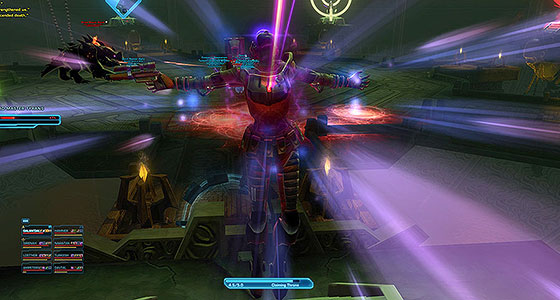 Onslaught's Spoils of War system has given players the ability to customize our gear far more precisely than in any previous expansion; yet in the vast majority of the game's group content it makes little difference. It's not a bold statement to say that proper gearing should matter and that it should reward better performance. That some players keep a traditional set of gear for the Dxun operation and another that exploits the exceptions of level locked content strikes me as bad design.
Veteran's Edge does a good job smoothing over those rough edges in Storymode and Veteran Mode content, but in my experience there are two parts of progression raiding: gearing and practice. During 2.0 and 3.0, gearing took longer since bosses dropped upgrades that people could use. Since 5.0, and arguably 4.0, it's common to walk into an operation with gear beyond anything you'll loot from a boss. I'm cool with that. To me, learning fights and getting the point where the team is properly executing them is more rewarding than wondering who will get their Underworld Relic this week. It also means it is much easier to bring in new or returning players without having to revisit old content to gear them up.
I run operations much more casually than I did a few years ago, and it's nice that Spoils of War allows my teammates and me to jump to the fun part without needing to spend excess time on the boring parts.
Many nightmare raiders have different goals. They want the challenge and the knowledge that everyone on the team needs to perform perfectly to succeed. That is completely understandable and a legitimate thing to want out of the game. I've seen some raiders complain that Veteran's Edge is a crutch, but others say that getting upgrades that improve the individual and therefore the team's output should be a part of the raiding experience.
I'm not at all the one to resolve this dispute, but I think the problems with Level Sync have exacerbated the difference between those positions. Right now the jump between Hard Mode and Nightmare operations seems bigger than ever, and it may be rougher than necessary for raiders who want to make it to the big leagues.
Rather than put it off, I think it would be worthwhile for Bioware to take a hard look at how level sync works now.