It's been a month since the launch of SWTOR's latest expansion Onslaught, and I'm finally at point where I feel caught up enough to share some first impressions. I'm late to the party as usual, but I'll still try to avoid major spoilers. In the interest of not keeping you too long, gentle reader, I will hit only a few points. It's to the expansion's credit that there are so many things I want to write about, but I just don't have room to cover it all in a single post!
The Story
I was a fan of the Fallen Empire saga, but I understand it was not everyone's cup of tea. Onslaught is a return to a traditional SWTOR story, but with extra style and tricks Bioware has learned in the intervening years. The biggest issue with even the strongest of Fallen Empire's chapters is that there was little novelty in replaying the chapters on alts. There were variations, especially between light and dark side characters, but the general arc of the story was the same for everyone. However, our characters can enter Onslaught from very different starting positions. The main Republic and Sith faction stories are separate despite intersecting plot points and characters. Added into the mix are the saboteur paths available to characters of both factions, and the outcome of Onslaught's story can vary quite a bit depending on the choices we make on the way.
The story itself has a lighter touch than Fallen Empire, with a bit more humor and a focus on classic heroes and villains doing their thing against a familiar backdrop of Star Wars' ancient conflict between the Jedi and the Sith. Onslaught features the long anticipated return of some favorite heroes and villains, but makes room for other familiar faces that I did not expect to encounter again. Of course, there some new characters as well; I was pleasantly surprised by how much I liked Jedi Padawan Arn Peralun. His interactions with my character and Lana and Tau were all fun and established him as someone who's arc I'm curious to see play out.
As with Ossus, playing the story through a second time on the opposite faction rewards the player with a different perspective on similar events. While the notion that our characters might exist in the same continuity has long since been abandoned, it's neat to see where the stories overlap. Major Anri's cameo in the Republic story was an unexpected pleasure and a nice moment that felt totally in character with what we've learned about her from the Sith faction's story.
The dual story continues nicely into the climatic flashpoint, Objective Meridian, on the planet Corellia. We've seen flashpoints that played slightly differently between factions before, particularly the Forged Alliances flashpoints, but the Objective Meridian's bosses are distinct with different mechanics depending on which faction you're playing. It's an attention to detail that makes an already excellent flashpoint feel even cooler.
As always, SWTOR makes sure your character is the center of the story and gives them plenty of opportunity to shine, but my two favorite moments involved Lana Beniko, a character who, if I'm being honest, I sometimes run hot and cold on. Lana is thoroughly entertaining throughout Onslaught. Her dramatic actions after a particular choice at the end of the Imperial Mek-Sha story had me clapping in surprise and delight. Even better was her cordial conversation with Gnost Dural in the Republic story. It was the kind of quiet, insightful Star Wars moment that you'd be hard pressed to find any where else but in SWTOR.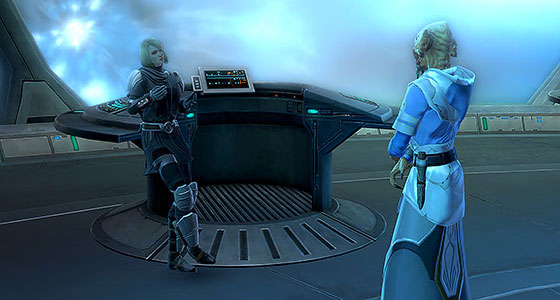 Speaking of the strengths of SWTOR, once again we get to explore two impressive new worlds: Onderon and Mek Sha. Onderon is a world steeped in many eras of Star Wars lore, and it's neat to visit its dense jungles and bioluminescent caverns. With Mek-Sha it is clear the folks at Bioware relished going wild creating this brand new setting. While it seems to draw on aspects of SWTOR's own Nar Shaddaa, the Stacks from Ready Player One and Alpha from Valerian and the City of a Thousand Planets, the dark alleys and suspended walkways of the hollowed out planetoid are fleshed out with interesting factions and plenty of atmosphere of its own.
I very much enjoyed the Onslaught story, and I think old and new players alike will enjoy jumping into it.
Spoils of War
While Onslaught's story returns to familiar ground, its gearing system dubbed "Spoils of War" diverges greatly from anything we've seen before. Even after numerous changes and iterations on the PTS, many, many players were nervous about how it would turn out. And it turned out pretty good, I think. Previously gearing consisted of acquiring sets of equipment with low item ratings, then spending the rest of the expansion slowly replacing that gear with new versions with slightly higher numbers. Spoils of War up-ends this system with a quick vertical progression to the highest level item rating, then a slower horizontal progression in which the acquisition of set bonuses, min-maxed, gear, Tactical items and Amplifiers take a greater time and credit investment.
A freshly minted level 75 character will feel pretty weak with the starter gear from the story, but once they start collecting upgrades, they'll get far more durable and powerful. Right now, getting a cool set piece or a good Tactical is pretty satisfying. It can take some effort to get the exact pieces you want, but unless you're really pushing the toughest content, they gear you get along the way will carry you just fine.
With Onslaught many of the big changes SWTOR has made since 4.0 finally feel like they're coming together into an integrated whole. Legacy group content has been with us for a while, but Spoils of War allows different content to reward upgrades in a different ways. The Galactic Command system of Knights of the Eternal Throne basically gave the same reward for all content regardless of difficulty. Something of that remains in Onslaught, but players who venture into tougher and newer flashpoints and operations will find greater rewards than before. I think this is a good thing.
It's not all perfect, however. Between the sheer range of gear we'll be collecting, the huge variety of item modifications, the many sets, the numerous Tacticals and the dizzying array of Amplifiers, it can be overwhelming even to veteran players. I've been trying to unpack each of these new systems one at a time, rather than try to make sense of everything all at once. I'll let you know when I've got Amplifiers all figured out. It might take a while.
Where Spoils of War failed out of the gate was with crafting. I realize crafting is a tough nut to crack for any MMO, and Bioware has announced changes to crafting coming next month. As I await those changes, I won't dwell on this point at length, except to say that I think 6.0 crafting launched in its worst state ever.
Conquest is another system with disappointing changes. I understand the bonanza that was Conquest at the end of KotET might have needed to be dialed back a bit, but I think Bioware went too far. Conquest is the only source of important crafting materials, and the equipment crates rewarded from it are a solid source of gear upgrades. I don't mind being nudged in the direction of Conquest, but right now Conquest is a hard push. With the changes in objectives it can be a pain for a casual player to even reach the weekly goal. This week, for example, the Pirate Incursion Conquest has only two objectives actually related to the event. One is non-repeatable and the other is a tedious Rampage mob-grind. I've said it before, I'll say it again: Conquest should not be work; there should be sufficient objectives for a any style of player to hit their Conquest target in an afternoon or so of targeted play. And I think Onslaught Conquest fall short of that mark.
There are also oddities with the Level Syncing of legacy content. Rather than beefing up group content to level 75, characters are instead scaled down to level 70. While level locked, our characters' Mastery, Power and Endurance are set to static values; our overall item level can enhance those stats, but nothing else does. Most of the stats on our gear and augments, most relic procs, most stims and many guild perks have no effect in the vast majority of the game's group content. I find myself in the odd position of recommending Primeval Fatesealer and Ephemeral Mending relics not because those two traditionally worst relics are finally good, but because they are the few relics that actually do anything these days. It's very weird, and not at all ideal.
Now What?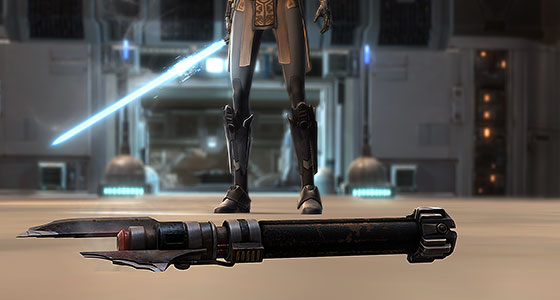 Three years ago, I concluded my Knights of the Eternal Throne overview with this same question, but back then I asked it nervously. It would be months before Bioware even started talking about what content would come next. But Onslaught's more or less smooth launch has me hoping the good folks at Bioware have hit the ground running. Papa Keith Kanneg has already shared plans for the end of the year including more heroics on Mek-Sha and a much needed revision to crafting.
It's an exciting time to be a Star Wars fan. With Rise of Skywalker only weeks away, and Onslaught, Fallen Order and The Mandalorian appearing to be worthy additions to Star Wars lore, I am optimistic for next year. Onslaught's story ends by teasing at least three different possible adventures to explore, and I honestly don't know which I'm most eager to see, but I can't wait to find out.