This week I've maxed out the second Galactic Season track, and I thought it would be a good excuse to take a look at some alien writing that ties into this season's underworld theme.
If you've ever visited the Black Hole sector on Coruscant, even if only to do the "Face Merchants" heroic, then you've seen that the neighborhood is covered in graffiti which makes it clear that the sector is under the control of the Black Sun criminal syndicate.
Black Sun's first appearance in Star Wars lore was in 1996 as part of the Shadows of the Empire multimedia event designed to give to fans all the books, toys, comics, video games, soundtracks and merchandise that they'd expect from the release of a brand new Star Wars movie, only without an actual movie itself. Several of the concepts, characters and vehicles introduced in Shadows found there way into other Star Wars stories, but Black Sun with its distinctive logo and ominous name has remained a regular presence in stories set on the seedier side of the Star Wars universe.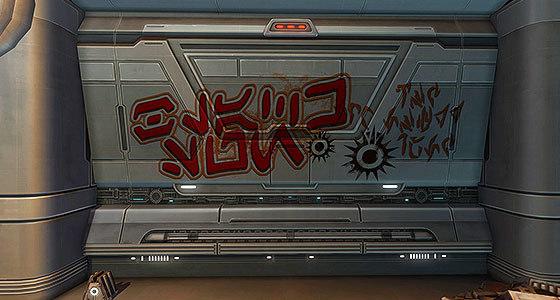 SWTOR players will discover that Black Sun was born out of the chaos caused by Darth Malgus' surprise attack on Coruscant, a seminal event in the Old Republic's history. Even after the siege of Coruscant was broken, the Republic capital's security forces were in disarray, and entire sectors of the world were left to fend for themselves. This void was eagerly filled by crimelords and gangsters who united to seize control of as much territory in Coruscant's lower levels as they good. Helpless citizens under their thumbs ultimately had no choice but to hope that better a black sun than none. Black Sun's advancement was nearly unchecked for years, and in that time they became a syndicate whose influence reached both across the galaxy and the ages into the era of the Clone Wars and the Rebellion against the Empire.
The Black Sun graffiti in SWTOR is written using two languages. The first is, of course, Aurebesh, but it is written in a free hand style appropriate for its context as spray painted vandalism tagged on a wall. Handwriting seems to be something of a lost art in Star Wars, with examples in lore being few and far between until the appearance of the "sacred Jedi texts" in The Last Jedi. In SWTOR, as in Star Wars in general, freehand writing most often appears as graffiti. In the example above, the larger text declares Black Sun's presence with bold authority, and the smaller slogan threatens that they are as inevitable as the dawn.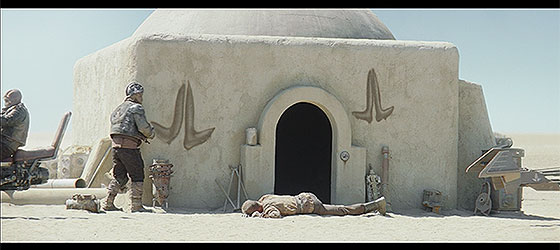 The second language used for the smaller tag is now called "Outer Rim Basic" but at the time these graphics were created for SWTOR it was generally known as Huttese, and I'll stick with that identification here. This writing style first appeared during the pod-racing sequences in The Phantom Menace, and iterations of it can be found in many other stories that touch on Star Wars' criminal underworld. Fans of The Book of Boba Fett on Disney+ might recognize the graffiti tag used by the Kintan Strider's swoop gang as being the letter "K" in a version of Huttese/Outer Rim Basic.
Given the overlap and rivalry between Star Wars' various criminal syndicates,  it does not strike me as out of place to see Huttese used in this circumstance. For example, Skadge, the infamous and not-quite beloved companion from the Bounty Hunter story, at various times worked for both Black Sun and the Hutt Cartel, although his time with the Hutts (like most of Skadge's relationships, I'd wager) ended in betrayal and violence. Regardless, an association with the Hutts, whether real or implied, could only help Black Sun's burgeoning reputation in its early days, both with others gangs and local citizens who doubtless already knew of the danger of crossing the Hutts.
Nevertheless, for those interior decorators who would like to add a dash of scum and villainy to their stronghold's ambiance, the Black Sun-Graffitied Underworld Couch is a reward for subscribers and free-to-play players alike at the fifth level of the current Galactic Season. As you kick back and plop your backside on top of it, take note, perhaps ironically, that it has been tagged with the same graffiti seen in my recreation above.