Last Thursday, Bioware hosted a livestream to focus on the story of SWTOR's upcoming expansion  Legacy of the Sith. It was a short one, but they did not waste any time getting the news out. They shared some information about where we'll be going and who we'll be going there with. It was neat to see some old and new faces and places, but the developers also made sure to include two big pieces of information.
The first was entirely expected and long awaited: the expansion's release date is December 14, 2021, less the one month from now! It will be an exciting race to the finish line. I think it would be generous to call the state of the game on the PTS "a work in progress" and I truly hope the team at Bioware will be able to get everything in working order for the launch with plenty of time to spare.
New Twi'lek, Who Dis?
The second big reveal was rather more unexpected, and I must tip my hat to the good folks in Austin for putting it out there and not remarking on it at all.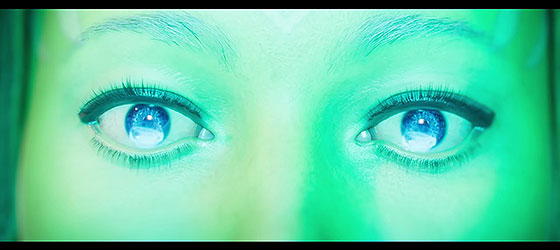 We caught our first glimpse of a mysterious new character in the lovely key art that will serve as Legacy of the Sith' loading screen, followed by a few tantalizing frames at the very end of the teaser trailer.
Recently Bioware has been rolling out remastered versions of SWTOR's amazing cinematic trailers, and if you haven't watched them in a while, it is worth it to revisit them in high definition to be reminded about what a breathtaking introduction to the game's setting they are!
I thought the days of these types of cinematics in SWTOR were over. But when they revealed a new CGI model of Darth Malgus on the cover of Star Wars Insider, I started to wonder, but did not dare get my hopes up. However, one look at those big blue eyes, and it was immediately obvious that this shot was not rendered in SWTOR's game engine. Something is coming, and I cannot wait to see it.
This past summer I took Bioware to task for not giving us enough to anticipate or wonder about for Legacy of the Sith, but with one loading screen and a few frames of video, they've excited my interest and got me asking questions!
The first and foremost is, of course, who is she? With my tin-foil-hat firmly in place, I have a theory. I think she is Darth Malgus' daughter. While Eleena Daru came to a tragic end at Malgus' hands, it does not strike me as impossible that she bore him a child. If true, this leads too all sorts of additional questions. Who raised her? Did Malgus know about her? Does she know who were parents are?
And I think there are some clues in what we've seen and heard already.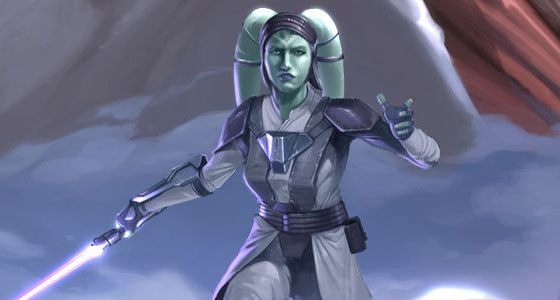 She carries a purple lightsaber, a color which Tau Idair's voice actor Enuka Okuma aptly described in the livestream's pre-show as a balance of the Jedi's traditional blue lightsaber and the Sith's red. Moreover, the figure wears black armor over white robes, imagery which again bridges the Jedi and Sith. I don't believe any of this is by accident.
Is she Jedi? Is she Sith? Could she be neither? The notion of "Gray Jedi" is a contentious one. Personally it's never appealed to me as a formal designation or coherent philosophy, but the concept of Jedi and Sith who exist outside their respective codes has long been a part of Star Wars and especially Old Republic lore. And Malgus' voiceover in the teaser indicates a clear desire to break free of both the Sith and Jedi.
Is this woman part of his plan for that? His hope for that? His tool for that? And what does she think about her role in all of this?
I think the final clue comes in the name of the expansion itself. It may not be a metaphor at all. As the child of Darth Malgus, she would be the literal Legacy of the Sith.
Like I said, I have questions but no answers. And I love it!
Opal Vulpltilla Raffle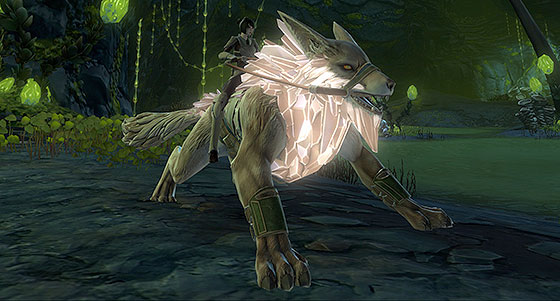 Finally, to celebrate this week's announcements, I am lucky enough to be able to share with my community a chance to win an Opal Vulptilla mount. To enter this raffle, all you need to do is leave a comment below this post. Who do you think the mysterious Twi'lek is? What is your favorite Aurebesh letter? Will you redecorate your Manaan stronghold to reflect the war there? Which returning character will we be able to romance in 7.0 and why is it Darth Rivix? Let me know what SWTOR thoughts are on your mind! However, I must insist that you DO NOT post datamined spoilers from the PTS. I will delete and disqualify any such comments.
To enter, leave a comment below with the following information:
Your character name (be mindful of spaces and special symbols!)
Your faction
Your server
That's it! I will accept entries for two weeks from this posting and will randomly select the winner on December 4 at 12 PM ET.
If you prefer not to comment publicly, I will also accept entries via email at twia@generic-hero.com or through twitter.
There are no country or server restrictions on any of the prizes that will be awarded.
This giveaway is not sponsored, endorsed or administered by, or associated with LucasFilm Ltd, BioWare or Electronic Arts Inc.
We're on the honor system here, so one entry per person, please.
Good luck, and I look forward to seeing everyone in Legacy of the Sith!
If you're new here, I hope you'll take a look around. I've been translating SWTOR's alien languages for more than five years now and sharing commentary about the state of the game as I see it.