Hello there! Once again June proves to be a tough month for this blog. I do have a couple translations that I have been working on, but since they are related to content from the next game update, I've decided to hold off on completing them until the update is released. In addition, I have been wondering what place this silly little blog has in these difficult times. Playing SWTOR with friends has brought me comfort this year, and I celebrate the game's improved inclusion in recent years. However, I also think that there is value in shutting up and letting the people whose voices matter do the talking, so that might mean stepping back from this project every one in a while.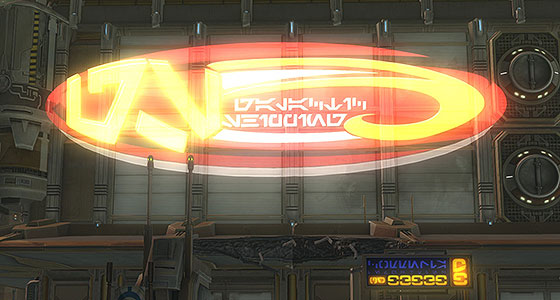 In the meantime, I haven't been completely idle. You might notice a new banner image in the rotation atop this page. I've also translated this very bright red and yellow sign seen on the war torn planet of Corellia. This particular sign can been seen by Republic players outside the Shipwright Auxillary Starport and is certainly one of the largest Aurebesh signs in the game. I'd roughly estimate that it's at least 40 feet tall and 150 feel long! The first thing that the design evokes in my mind are French Curves, templates used in drafting and design. I confess my poor old set of curves haven't seen the light of day in many years since even my recreation was created using digital tools.
Because the large Aurebesh initials were distorted to fit in with the sign's shapes and swooshes, I used a different font than usual so that I could integrate those English letters into the original sign's design.
Eagle-eyed viewers may also spot a second, smaller Aurebesh sign at street level. I did translate this sign way back in the earliest days of this blog, but I did a much simpler job than my current recreations, so I might give it another go if I hit a dry spell again.
That's all for now. As another summer of SWTOR ramps up, players can look forward to the All Worlds Ultimate Swoop Rally in coming weeks. I tried out a few swoop runs on the PTS, and it promises to be some relaxed, low key fun for players of all levels. Even more good news came from Creative Director Charles Boyd who has let us know that voice recording for the next stage of story content is on the way, and I'm certain I'm not alone in looking forward to that.
Until then, I hope everyone out there continues to take care of themselves, their families and their community.