While messing about on SWTOR's Public Test Server this evening, I realized that the character I had transferred over last year still hadn't leveled their crew skills. To remedy that, I flew over to Mek She to farm up some metals. While running through Brzo's Wells, I came across an inaccessible instanced area that I don't believe I had encountered before. Even more peculiar was the Aurebesh sign hanging outside of the area, and it is one I definitely hadn't seen before.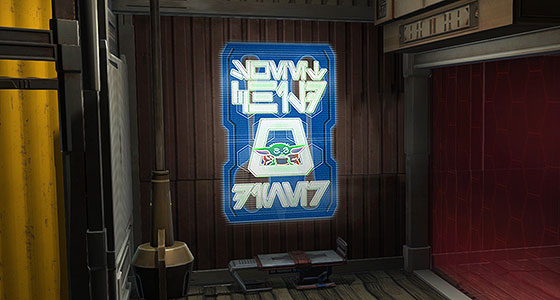 This neon sign is amusing partially because it seems to advertise a restaurant (which specializes in bone broth soup no doubt) but mainly because its mascot seems to be none other than the breakout star of The Mandalorian series! Leaving aside issues involving canon, the time-space continuum and crass commercialism it's interesting to note that even in SWTOR this little green foundling is still officially referred to as "Child" and not Baby Yoda.
I apologize for the lack of translation and recreation. I will endeavor to get a better screenshot once the next game update goes live in a couple of weeks, but I thought it would be a fun discovery to share today.
Who's More Foolish?
Just updating this post with a late in the day addition. This is indeed an April Fool's Day joke. I honestly wasn't sure if I should go ahead with this prank, but some friends pointed out that now more than ever we all could use a laugh and more Baby Yoda in our lives. Swtorista has compiled a truly epic list of official and unofficial SWTOR related April Fool's jokes and if you're looking to raise your spirits definitely check it out!
Finally, here's a peak behind the curtain at a higher resolution version of the "Sweet Child O Diner" poster before I resized, distorted, blurred and muddied it up into the Mek She street scene. I won't lie, I'm quite pleased with how this turned out.