To mark the imminent release of The Rise of Skywalker I thought I'd do something a little different. Even though Episode IX will conclude the classic film saga, Star Wars was, from the very beginning, much more than just the movies. A myriad of stories told in every conceivable medium continued the adventures of heroes old and new in that galaxy far, far away. I adore the movies to be sure, but I've also found great joy in many aspects of the Star Wars universe beyond the films. So I'd like to celebrate some of those with a Dumb Top Five list of my favorite things about Star Wars that aren't movies.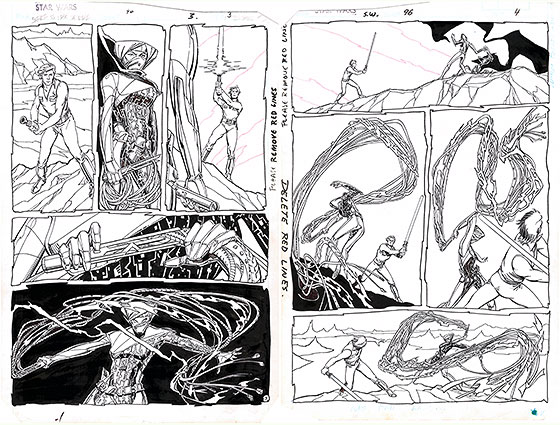 Part Four: Original Art
Before the internet united us all and ruined everything, there was one place nerds like me could gather and share our love for super heroes, starships and space wizards: the comic book convention. As I soon as I had money to burn and means to travel on my own, I started regularly attending local comic shows downtown and soon journeyed to some of the big east coast conventions in New York City, Baltimore and Atlanta. At these conventions, I got to meet and thank many of the creators of my favorite comic books and eventually started purchasing artwork they had for sale.
And then Ebay happened. Collecting original comic art had been a niche within the already niche hobby of comic collecting, and when Ebay enabled dealers and collectors to conveniently sell directly to each other regardless of location, a flood of artwork that was initially perceived to have little value hit the market. While Star Wars art, particularly covers, splash pages or pages from the movie adaptations, was always in higher demand than other comic art, there was still plenty out there for a collector on a budget, a collector like me, to acquire. Eventually I was priced out of the market; this may not come as a surprise to learn, but there are Star Wars fans out there with seriously deep pockets. Yet I remain grateful that I was in the right place at the right time to assemble a modest collection of original comic art and illustrations from several eras of Star Wars comics and books.
Typically, artwork for comics was drawn and inked on large 11″ x 17″ or larger boards, then scaled down for publication. For me, the appeal of collecting originals is being able to appreciate in person the care and details that were lost in the reproduction onto cheap newsprint, to see the traces of rough pencils and corrections, to read notes from the penciller to the inker, comments from the editor, but mainly to thrill at owning an actual piece of a story I very much enjoyed reading in comic book form.
The artwork from my collection that I've displayed here is from "Duel with a Dark Lady", issue 96 of the original Marvel series published in 1985. The issue was written by Mary Jo Duffy, penciled by Cynthia Martin and inked by Bob Wiacek, and is one of my favorite Star Wars stories in any media. These four pages depict Luke Skywalker's first encounter with and thorough ass-kicking at the hands of Lumiya, who assumed the mantle of Dark Lord of the Sith after Darth Vader's death. Martin's clean, anime inspired style was unusual to see in mainstream comics in the mid-80s, and Duffy and Martin did a terrific job staging the battle like something from a samurai movie or manga. As the conflict escalates, the tendrils of her crackling whip fill the panels and overwhelm Luke, withdrawing only after his defeat. Also take note of the small detail of Lumiya's jagged cloak which flies off her at the start of the fight, then is called back to her at the end. I loved it then, I love it now.
And, look, even in this era of lightsabers on pikes, with double-blades, cross-guards and handy bottle-openers, Lumiya's light-whip is still just freaking cool.
This Thursday: From Quarters to Cartel Coins.