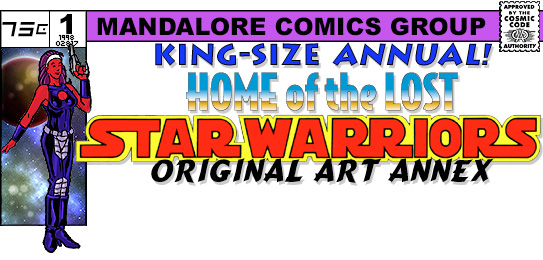 Welcome!
In 1977, Star Wars changed the world for a generation of kids. The ingredients that made the movie a success in theatres: the epic battle between heroes and villains, exciting action and impossible special effects meant that the continuing adventures of Luke Skywalker, Princess Leia and Han Solo would find a natural fit in the comic books of the Marvel Comics Group. Star Wars fans didn't have to wait years between movies when their appetite for adventure could be sated by a quick trip the to spinner rack at the local super market or variety store.
A lot has changed in the last decades, but Star Wars found a nearly continuously published home in the comic book medium. For more than a decade, tales of characters old and new could be found in the pages of Dark Horse Comics, and most recently, Marvel Comics has again begun to chart out an era of adventures beyond the movies.
On this page, I've shared some of the original Star War artwork I've collected. Select a gallery and feel free to explore each scrollable page! The artwork on this site is copyrighted to Lucasfilm Ltd. It is shared here from my collection at no cost and should not be re-used or distributed without Lucasfilm's permission.
Questions? Comments? Cease and desist warnings? Drop me a line!
Gallery 1 • The Marvel Era
Gallery 2 • The Marvel Era
Cynthia Martin - Cynthia Martin's art is some of my favorite of the Marvel series. She brought a clean line and manga influences to her work long before it became the current fashion.
• Issue 95 •
• Issue 96 •
• Issue 97 •
• Issue 100 •
• Issue 103 •
• Issue 104 •
Gallery 3 • The Dark Horse Era
Gallery 4 • RPG, Books & Magazines
Gallery 5 • Commissions & Convention Sketches