To mark the imminent release of The Rise of Skywalker I thought I'd do something a little different. Even though Episode IX will conclude the classic film saga, Star Wars was, from the very beginning, much more than just the movies. A myriad of stories told in every conceivable medium continued the adventures of heroes old and new in that galaxy far, far away. I adore the movies to be sure, but I've also found great joy in many aspects of the Star Wars universe beyond the films. So I'd like to celebrate some of those with a Dumb Top Five list of my favorite things about Star Wars that aren't movies.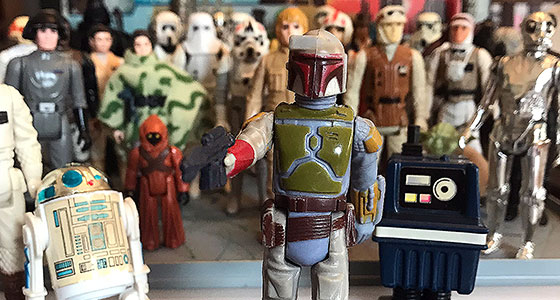 Part Two: Action Figures
Growing up, pretty much every single boy (and some of the girls) I knew played with Star Wars toys, and I was no exception, eventually assembling a small army of dozens of miniature heroes, villains, robots and aliens from the original trilogy. Reinforced with assorted Adventure People, Micronauts and G.I.Joes, I staged many epic battles far beyond anything George Lucas would ever conceive or much less approve of.
My favorite Kenner Star Wars figure was Bespin Luke, but Darth Vader was my first and the character I have the most versions of today. All that remains of that original Vader is his head; it is likely that his body was lost to over-eager play or forgotten by me and consumed by my mother's vacuum cleaner. A tragic outcome in either event.
Even Vader's replacement has long since lost his lightsaber and stylish vinyl cape/vest. Both as a child and an adult, I had no interest in preserving my figures for future sale or display. I'm what collectors call an "opener." I've never had a figure that I didn't eagerly free from their clear plastic and cardboard prison. I always have one or two on my desk at any given time. My current figures see the bulk of their action during loading screens or on patch days.
These days I suspect more Star Wars toys are bought by adults than children, and I still indulge in Star Wars figures from time to time. Currently, the figures I buy are mainly from Hasbro's Black Series line of six inch figures. Selling for at least $20 each, however, these guys are not cheap, so I try to be judicious in my purchases. However, this can be a tough line to hold whenever a new movie is about to come out.
Aside from the cost, the figures can sometimes be a challenge to even buy. Long gone are the days when I could walk into any toy store and find any Star Wars figure I wanted. Today's figures are produced in limited numbers, and distribution to even large retailers can be spotty. You're unlikely to find a popular character like the recently released Mandalorian at your local Target or Walmart, so you'll need to be prepared to hunt various online sources if you want to pay a reasonable price. On the other hand, other figures derided as "pegwarmers" can easily found even a year or so after their release. To be honest, I'm not always sure which figures will be hard to find and which I'll see marked down for clearance later.
The latest generation of action figures have far greater articulation and attention to detail than anything I would have dreamed possible back in the day. Within the last year or so, Hasbro has begun using "face printing" in which paint details are applied to a figure digitally. The result is that these toys can often have uncanny likenesses to their real life counterparts. If you've ever wanted a miniature Mark Hamill for your desk or shelf, it's a great time to be alive!
Am I too old to be playing with toys? Yeah, probably. But putting Darth Vader into a menacing pose and setting him up against Han Solo as he draws his blaster has never stopped being a satisfying waste of time.
Next week: Dice not included.