I just want to pop in with a very quick post to pass on congratulations to the winners of my recent mount raffle. I had so many entries that I added a few extra prizes to the pool. Bladebreake, Nezzir, Myst Draconis and Kaliyva, enjoy your sparkly Opal Vulptilla mounts! Zingerlo, Katie Cat, Meret-isesi and Celyddon have fun blasting off in your brand new Mandalorian Heavy Jetpacks! Check the mail of those characters for your codes!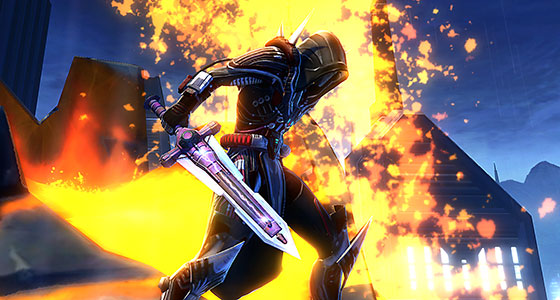 Yesterday's big news, however, was the announcement that SWTOR's development will indeed be moving from Bioware to Broadsword Online. Now that the news is official and the deal seems to be inked, the "broad" strokes of SWTOR's future are starting to appear. As far as I can tell, much if not most of SWTOR's core development, design and community team will be shifting over to Broadsword. If the intention is to transition SWTOR into maintenance mode, I strongly doubt we'd see so many people making the move. Moreover, you don't have to read too deeply in between the lines of these folks' social media announcements to see that the SWTOR team seems quite happy with this development.
If they are encouraged, then I'm encouraged! Other MMO's have prospered after finding new homes, and SWTOR will still have backend support from EA and Lucasfilm Games. I'm certain Broadsword's first objective is that the transition be essentially unnoticed by players who should be able to log on, subscribe and make Cartel Market purchases exactly as they have been doing for years already.
Beyond that, SWTOR's content for the rest of the year is already in development, and players may not see and feel the effects of this deal until next year. With a strong core at the helm, and a supportive studio to call home, I'm hopeful SWTOR will thrive in the years to come!