SWTOR's 7.2 Game update Showdown on Ruhnuc just launched, and once again the game finds a way to end the year on a high note. While I gather my thoughts on this year of SWTOR, I also want to put down on the record my two credits about the latest live action Star Wars story.
Season one of Andor is an impressive accomplishment. At its core it is a show about the birth of the Rebel Alliance as seen from Cassian Andor's perspective. But it's not only about Cassian, and indeed in his life, he is often powerless in the face of forces he cannot control, from his "rescue" from Kenari to arrest on the resort world of Niamos.
Because the show has bigger fish to fry, it also makes sure to tell the stories of other key figures in the early days of the fight against the Empire. Most familiar to Star Wars fans is Mon Mothma who has gone from a one note character from a single scene in Return of the Jedi to someone who faces a struggle against the Empire that has left her as trapped and desperate as anyone else. It has been remarkable to see Geneveive O'Reilly take Mothma from a sadly deleted scene in Revenge of the Sith to an assuredly played key player in both Rogue One and Andor.
I think the message of Andor is that the Rebellion was not born of one thing; the protagonist of this season is clearly Stellan Skarsgård's Luthan Rael whose goal is to bring together an alliance that can credibly fight the Empire. He is, by any means necessary, working to unite scattered factions of politicians, spies, smugglers, criminals and terrorists into a whole, even if it means lying to one group or sacrificing another. In Star Wars lore, the Rebellion is typically presented as the "good guys", but Andor wants to add some nuance to that portrayal.
The show is about the struggle for the soul of the Rebellion. The climax of Rogue One is, of course, the resolution of this conflict, but in Andor we hear many voices describe what rebellion means to them. Nemik's manifesto details what the Empire's banal evil is. In Coruscant's underbelly, Luthan declares how far he is willing to go in the fight. Kino Loy exhorts his fellow prisoners to take their escape in the only direction where it can go. In the finale, Maarva's epic self-eulogy is a call to arms to everyone within the sound of her voice telling them why they must fight.
It's all thrilling stuff, and Deigo Luna is fantastic as Cassian who strives to find his place in the midst of this chaos. You don't have to strain very hard to see parallels in the politics and conflicts of our world's all too recent history. From its very beginning, Star Wars has worn its anti-fascist politics on its sleeve, and Andor looks to explore the ways people fight back in their most desperate hour. After one season, it hasn't offered easy solutions or a happy ending. We know how things end for Cassian, but the show has made it clear that no one is safe. Take Mon Mothma, the only character on the show whose survival is assured; when we revisit her again in Return of the Jedi, the Bothans are only the latest in a long line of losses she's endured in the intervening years.
Under Tony Gilroy's stewardship, Andor also approaches the cinematic scope of an actual Star Wars movie better than any other Disney+ show so far. In tone and story, it is very much like its own thing, but still feels like Star Wars as well. Season two is quite a ways off, but I'll be there for it as soon as it drops.
Is Andor the Best Star Wars?
I'll just cut to the chase. No, I don't think so.
This section was originally a lot more ranty, went through several revisions, and I nearly abandoned the whole review altogether, but I came around to feeling like I did have something to say about Andor.
Discourse within Star Wars fandom has always been kind of bad, and even from the distant outer rim of things where I live these days, it feels worse. So much of it boils down to people who want to make which Star Wars you like a zero-sum game and then pit one sub-group of fans against another. "If you don't like Rogue One, you're wrong and not a real Star Wars fan." "If you don't like The Last Jedi, you're wrong and not a real Star Wars fan." "If you don't like the Zahn trilogy, you're wrong and not a real Star Wars fan", etc., etc.…
Even leaving aside the CHUDs mining bad faith click baiting shit-takes, it can be exhausting even just to ignore it all.
Among people who mean well, it can get to be a bit much too. I get it. After more than four decades there is a lot of Star Wars out there and sorting through it all is not for the faint of heart. But when it comes to Star Wars, I'm not gonna pick just one. I like apples AND oranges.
Take Andor and Book of Boba Fett. Comparisons only get you so far. They are very different shows with very different ambitions. Book of Boba Fett was pretty much naff; Andor has things on its mind. However, I suspect that if I were eight years old, I'd much prefer Book of Boba Fett, a show with jet packs, high noon shoot outs, and monster vs. robot action, to a show mainly about people talking, in which the hero shoots unarmed people and someone is psychically tortured by the cries of murdered children.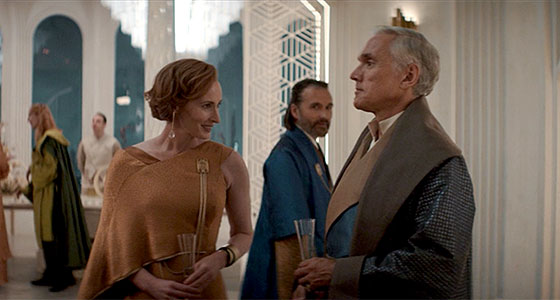 Ultimately, I think the best Star Wars should probably land somewhere in the middle. I don't think that's a spicy take at all. Ideally, of course, I want Star Wars to be smart AND fun, but it doesn't always hit that mark, and at my most sanguine I might even admit that it rarely hits the mark at all.
All that said, I think it's good that there are  Star Wars stories with different styles, tones and perspectives. I'll even go so far to say that this sort of variety is necessary for Star Wars to find and connect with new fans. That I don't consider Andor to be "The Best Star Wars" does not at all detract from how much I like the show. Hate on Disney all you want, but we're getting more Star Wars content now than at any time in the franchise's history. I'm glad they're willing to explore different stories with lots of creators. In the old days, Andor would've been, at best, a second-rate paperback novel, and not the high quality production we got. It's cool we can pick and choose the shows and movies and novels and comics and video games we like and shouldn't have to feel like we need to watch, read or play it all, because, holy cats, there is a lot of it.
I gave up years ago trying to keep up with everything, but I do not and would never think that the slice of Star Wars pie that I enjoy is the only Star Wars worth tasting. I love it when someone's genuine enthusiasm as a fan or a creator encourages me to try something different. As for the parts I don't like, I honestly don't give them much thought, and I sure as shebs don't take it personally. I cannot possibly imagine holding a grudge against someone who just wanted to tell a Star Wars story.
Of all the hills to die on, that's the stupidest.