This month, in the comic book pages of IDW's Star Wars Adventures 2018 Annual, saw the return of one of the most infamous characters in all Star Wars lore: Jaxxon, the green haired, rocket-rabbit from the very earliest days of what would become known as the Expanded Universe.
Jaxxon and his partner Amaiza (who also returns to the four color limelight), were one quarter of the "Eight for Aduba-3", one of the first original Star Wars adventures in any media after the release of the movie. Before I wax too nostalgic, I should point out that the Aduba Saga has fairly earned its controversial reputation. Writer Roy Thomas saw in the first Star Wars movie a mix of Flash Gordon serials, samurai, western and World War II movies, and decided to do his own riff on The Magnificent Seven, adding elements from Godzilla movies, Warner Bros. cartoons, female professional wrestling, and even Cervantes. The end result, however, is an over-stuffed, under-cooked mess. In the years to come poor Jaxxon would be singled out by both official sources and fans as an excuse to dismiss the whole Marvel series. This is ironic because, until this month, there was literally a four decade gap in Jaxxon stories, and his last appearance in 1978, issue 16's "The Hunter" is one of the strongest tales in the original run.
No doubt, these comics are very much of their time, and may not be to modern tastes. The earliest stories between Star Wars and The Empire Strikes Back tended to be illustrated in a broad Silver Age style: Luke and Leia had the physiques of super-heroes, almost no effort was given to make the characters look like their actors, and the action was very exaggerated and over the top. What was proper Star Wars was still being discovered back then, and sometimes those old comics wouldn't fit in continuity, used concepts from the movies weirdly or were just too comic-booky. "Eight for Aduba-3" fits all those bills.
And yet…
The giant monster stomps things, Jaxxon cracks wise, Amaiza kicks butt, Don-Wan Kihotay is clumsily heroic, and Han Solo saves the day in spite of himself. What more could an eight year old ask of a Star Wars comic? Nowadays when some folks are genuinely asking if there is too much Star Wars, it's hard to imagine what is was like back then to be a fan starved for new adventures after just one movie. Splinter of the Mind's Eye smacked of the low budget sequel it was intended to be and the wholly bizarre Holiday Special left a generation of kids shaking their heads in confusion. But in the pages of Marvel's Star Wars comics, that's where the action was. If you wanted to see all the heroes from the movie exploring new worlds, encountering scores of new aliens and playing with all manner of new ships, droids and weapons, Marvel had you covered.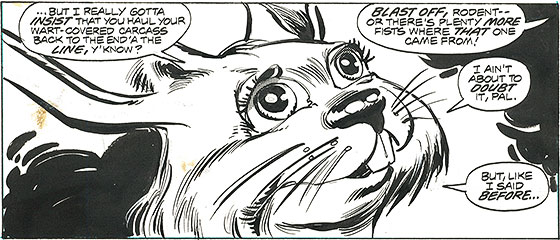 Even as a big fan, I cannot deny that those old Marvel stories have a host of issues, but I think their flaws were more of execution than ambition. Some stories were misses, sure, but they were big misses. And there were plenty of hits too: stories that made the wait between movies easier to take, and stories than even now stand tall in the legendary array of Star Wars canon.
So I'm thrilled to see Jaxxon and Amaiza have another day in the sun. Over the years, there has been the odd sighting in roleplaying game supplements, inside jokes and background references, but the cartoony style of Star Wars Adventures is a natural fit for Jaxxon. The story by writer Cavan Scott, illustrator Alain Mauricet and colorist Chris Fenoglio is a delightful romp with action, betrayal and a charming reinvention of these old characters. You don't have to know who Jaxxon and Amaiza is to get a kick out of the story, but there are some literal and figurative easter eggs for old timers like myself to enjoy. I do hope they check in with these two star-hoppers again, at the very least they have some unfinished business. Jaxxon is silly and dumb like Star Wars can be sometimes, like Star Wars should be sometimes. If you're cool with that, by all means, check it out!
Black Hole Redux
This week's Aurebesh recreation continues my tribute to Jaxxon and Amaiza. Back in the day, Han Solo knew Amaiza as the "den-mother of the Black Hole Gang" so a return to my favorite daily quest hub seemed appropriate. The Jaxxon connection is obvious upon discovering the translation of this sign.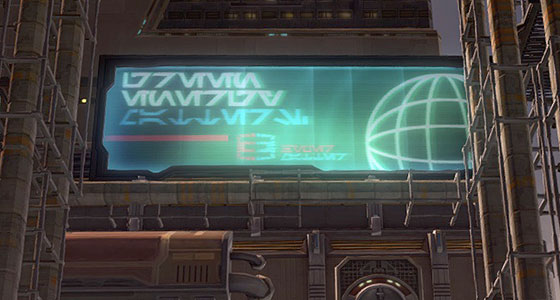 The sign is one of many advertisements for the HyperMatter Corporation and at first glance seems to tout the company's commitment to the environment. However, anyone who has quested through the zone probably knows that the color in question probably refers to the radioactive glow that one might develop after spending too much time in the Black Hole.
I must admit I missed this sign during my first survey of the zone since it is posted somewhat out of view in the Imperial section of the Black Hole and does not seem to be used elsewhere. The sign itself hangs high on a building and is easy to miss if you don't look up or don't back track while completing your weekly quests. I only recently discovered it myself while exploring the area on an Republic character. It's like Ferris Bueller said, "Life moves pretty fast. If you don't stop and look around once in a while, you could miss it."