Last week I had the honor of being invited to participate in the SWTOR Unite event in which members of SWTOR's podcasting and streaming community teamed up to tackle Gods from the Machine. It was a real thrill to be the Hawkeye on this team of SWTOR Avengers assembled from the Bad Feeling Podcast, the Council, the Escape Pod Cast, the OotiniCast, the Passionately Casual Podcast, ScrublandShad, the State of the Old Republic, the Usual Podcast, and, last but not least, Working Class Nerds!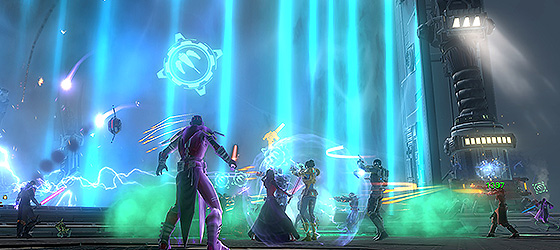 The goal of the event was to unite all these content creators in one place and share their enthusiasm for Star Wars The Old Republic. In that regard I'd say it was a big, chaotic, fun success. Hearing so many familiar voices at one time and in one place was super cool, even before we started killing bosses. While the experience level of the group literally ranged from one extreme to the other, I was impressed with how far we got. No, we did not complete the operation before everyone started falling asleep, but we did come this close to killing Izax, so close that there is no doubt in my mind that we'd have gotten him down with one more pull.
SWTOR Unite's activity of choice was an operation, but it is a testament to the game that it can be a great source of fun for players with many different interests from killing raid bosses and dressing up characters to fighting other players and translating fake space languages.
I want to thank Dr. SWTOR and Marcus for organizing the event. I can't wait to see what madness they have planned next!
Relay Junction, What's Your Function?
This week's Aurebesh translation is a work sign that I found on Corellia. I imagine this one provides information for the technical crews who work to maintain infrastructure around the planet's war torn capital.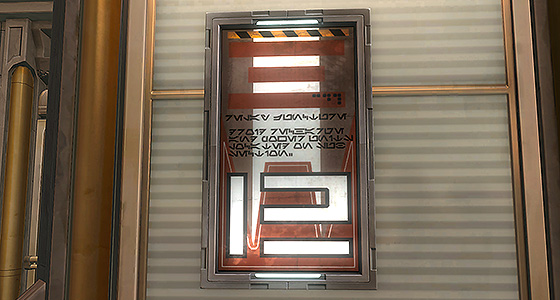 The sign uses of the term "sub-section" and is similar to others seen around the galaxy. The element that I find most interesting is the design' incorporation of both of Aurebesh's number styles: the standard style that closely matches our earthbound numerals and the digital-style with dots and dashes style. The large Arabic numerals clearly work better in the design, but inclusion of the smaller numbers in the alternate Aurebesh form is a neat touch.
Here in my neck of the wood, Life Day is rapidly approaching, and I hope everyone's vacation is filled with clear skies and full bellies!